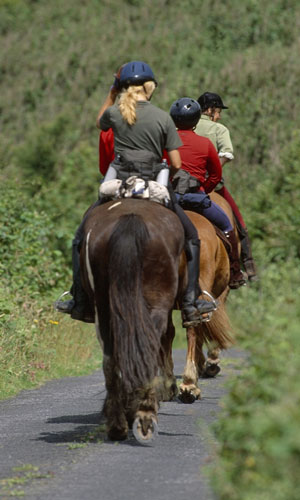 &nbsp
Have you ever dreamt of galloping along a deserted beach with the sea breeze on your face or trekking along by majestic mountains with the sounds of the water rippling in a nearby stream? Mayo is exactly the place to realize this dream!
Horse riding and Equitation are popular activities throughout County Mayo where you can discover many spectacular landscapes and seascapes, green fields and hills.
There are a wide variety of equitation packages for your Mayo horse-riding holiday with a great selection of horses and ponies for everybody from the beginner to the experienced rider. Horse Riding and Equitation Centres in Mayo offer horse riding lessons and instruction, trail rides, pony trekking & beach rides and many of them also conduct pony camps during school holidays.
There are plenty of opportunities for beach rides, mountain rides and various treks from Carrowholly Stables just a few miles outside of Westport.
For more information visit the Carrowholly Stables website.
Carrowholly Stables also have a self-catering apartment available and you don't have to be a riding enthusiast in order to avail of it - see the Carrowholly Apartment for more information.
Choose from the many Mayo horse-riding centres with treks to suit everybody.