West Ireland, the Ireland of your imagination
Take part in our charming region. Here, there is always time for a special moment and remember there is a corner of Mayo with your name on it waiting for you.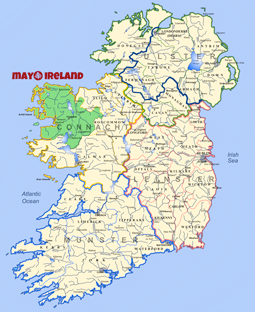 Welcome to our site on County Mayo in the west of Ireland. Here you will find all kinds of information about our amazing county ...


Mayo is Magic !
Mayo really is the Ireland of your imagination, a beautiful and inspiring region. Be amazed at our breathtaking landscapes and panoramic countryside. Discover the spectacular scenery of the many lakes, explore the green and peaceful valleys, walk up to the peak of wild mountains.
Appreciate the stunning islands and stretches of coastline; take pleasant strolls on the wonderful, yet unspoiled, beaches and enjoy the pure and crystal waters.
If culture, music and history inspire your curiosity find out the treasures of Mayo; come in touch with legends, myths and stories, get a haunting sense that here the past is a living spirit.
Mayo people are warm and friendly and take pride in making our land your land.
Highlights of County Mayo

Westport
In the shadow of Croagh Patrick and overlooking Clew Bay is a fantastic visitor destination. Discover why !

Cèide Fields
Nestled on dramatic cliffs, is a unique archaeological site in a vast prehistoric landscape and blanket bog. An experience to remember !

Erris
The Irish Time best place to Go Wild in Ireland 2014. Erris, a wild and unspoilt little area !

Achil Island
Is a must for all visitors to Mayo with its magnificent sea cliffs, sandy beaches and warm Irish hospitality. Enjoy it !