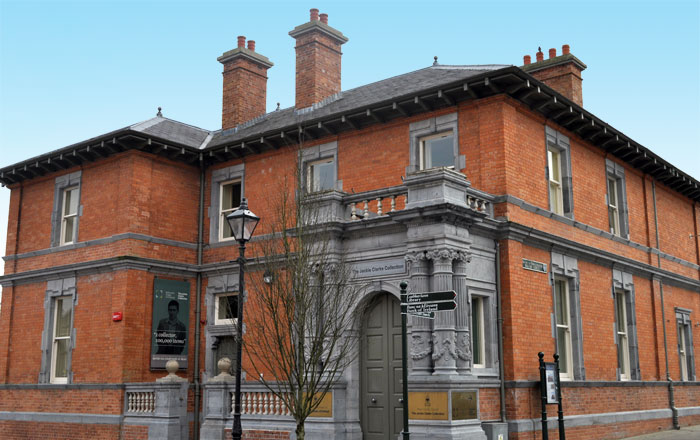 The Jackie Clarke Collection is located in Pearse Street, Ballina. The collection is hosted in the former Provincial Bank building, which was built in 1881 by the Victorian architect Thomas Manly Deane. It used to be a bank until 1977.
The collection opened in 2013, when Mrs. Anne Clarke, widow of Jackie Clarke (a Ballina businessman and collector of Irish material), gifted all his collection to the County, fulfilling her husband's wishes.
It includes over 100,000 items spanning 400 years such as rare books, proclamations, newspapers, autographs, letters, posters, prints, political cartoons, photographs, maps and hunger strike material.
The Jackie Clarke Collection has a huge national significance in relation to the 1916 Easter Rising. It displays items associated with some of the most influential figures of the Rising: PH Pearse, Thomas Clarke, Eamonn Ceannt, Thomas MacDonagh, Sean MacDiarmada, Joseph Plunkett and James Connolly. There are also items associated with Wolfe Tone, Michael Collins, Dr. Douglas Hyde, Michael Davitt and O'Donovan Rossa.
The collection also has the Le Roux papers. Le Roux, a Breton national, was the first biographer of PH Pearse and Tom Clarke. He collected letters and an unpublished manuscript on Seán MacDiarmada during the 1920s and 1930s.
The library also contains many volumes relating to the Rising in the Irish language. The repository has a dedicated research space and provision for edu-tourism activities. Here scholars and researchers in the history of Ireland's struggle for independence and the Irish Diaspora will have access to many interesting documents.
The walled urban gardens are a place where visitors can relax and find a wide selection of plants, herbs and flowers from County Mayo.