Charlestown - GAA
Charlestown, County Mayo in the West of Ireland
Photos on this page kindly supplied by © Cathal Henry.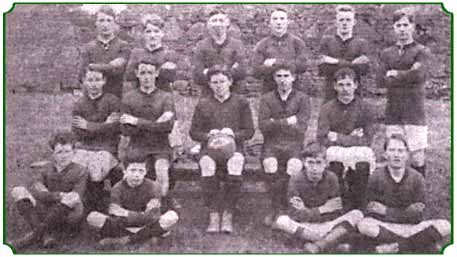 St Nathy's College GAA football team 1913/14

Front row (seated on ground) l to r: Joe Maren, Jack Henry, Jim Colleran, J Gildea
Middle row: Mick Henry, Mickey Gallagher, Jimmy Lavin (captain), Chris Meade Luke Deignan
Back row: Peter Harte, Tom Henry, ???, --- Dalton, --- Walsh, John R O'Connell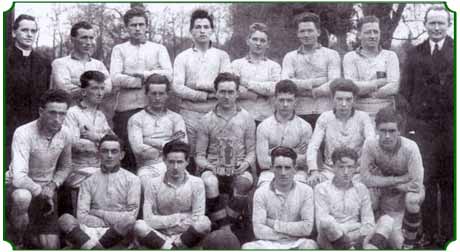 The UCD Sigerson Cup winning team of 1923

Back row l to r: Rev Fr Ryan, vice-President, G Hurley, T Kirby, E Doherty, P Mannix, S Lavan,
E N M O'Sullivan, Dr J M Ryan
Front row: P Downes, E Carroll, Dr T Pierse, S Gardiner (captain), J Henry (vice-captain),
G Madigan, M Kilcoyne, T Ryle, J D Grant, F McNamara, M McQuaide.
A picture of members of the great League teams of the Thirties.

Most of the players of that great era are included.
L to R: Mr Paddy Mullaney (Balla), George Ormsby, Tom Bourke and Patrick Collins.
Second row: Mr D F Courell, Peadar O'Loughlin, Tot McGowan, Jackie Carney, Gerald Courell,
Tom Grier, Tommy Regan, Josie Munnelly, Vincie Leonard.
Back row: Henry Kenny, Paddy Quinn, Mick Raftery, Patsy Flannelly, Peter Laffey, Paddy Moclair,
Willie Boshell and Purty Kelly