Charlestown Photo Archive
Charlestown, County Mayo in the West of Ireland
Photos on this page kindly supplied by © Cathal Henry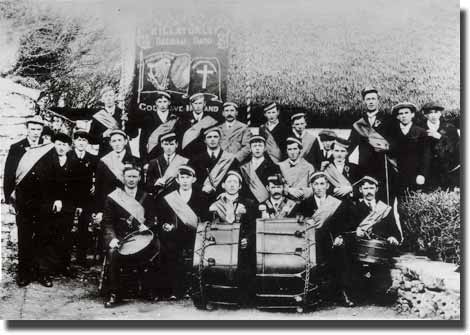 The Killaturley National Band, circa 1930.

Included in the above photo are: Ned Tunney (John), Pat Frain, Roper Ansboro, Martin Gallagher (Joad),
Pake Kenny, Brownie O'Neill, Jim John Tunney, Jim Mulligan, John Gallagher (Sligo), Paddy Morris, Paddy O'Neill,
Tom Gallagher (Nel), Tom Jack Gallagher, Tom Gallagher (Darkey), Pat Gallagher (Yank), Mike John Tunney,
Jim Tunney, Jim Gallagher (Nel), Tom Gallagher (Sligo), Dannelly, Mike Gallagher (Sally), Matt Gallagher (Sligo),
Pat Taylor, Martin Regan, Dan Gallagher (Sarah).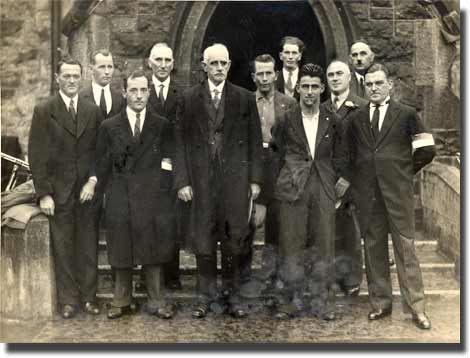 A group of Charlestown citizens in front of St. James's Church. Charlestown, circa 1935.

Left to Right: Luke Mulligan, John Cassidy NT, Tony Henry, Luke O'Donnell, James Parsons, Luke Colleran MPSI,
Val Harrison, Mike Brennan, Jim Mulrooney, Billy Campbell and Pat Campbell.