Charlestown, County Mayo in the West of Ireland
Photo on this page kindly supplied by © Ivan St Pierre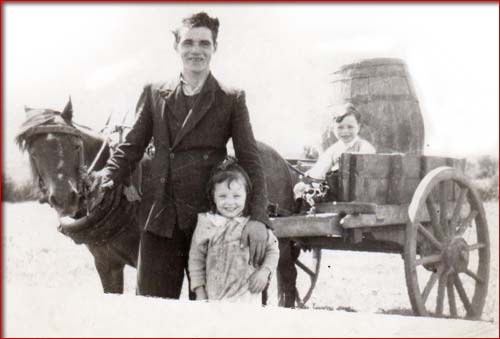 Email from Ivan St Pierre, Dorset with information about the above photo
"My mother Bridie Beirne emigrated to London in 1938, she was the sister of Seamus, who also appears in your photo archive, (with his brother Dominick) entitled 1951 Junior Football Team.
As a family we visited Ireland in 1948. I am the boy on the cart (Now aged 69) and my sister Shirley (66) is standing by the cart.
The picture was taken by my father in 1948 with a 'Kodak Brownie' camera and I believe we were collecting water from the well (No mains water in them days) at my Grandfather's Farm, Patrick Beirne who lived at Lisacurkia, Tibohine, Co Roscommon.
I believe that Seamus Beirne was a butcher in Charlestown (Barrack Street) for many years and married a lady called Maureen McCann - I think she came from a well-known Charlestown family."