A new state-of-the-art Swimming Pool and Leisure Centre, built on the site of the original Claremorris Swimming Pool, is guaranteed to attract more visitors to the town as well as generating new business in all sectors of the local economy.
Facilities
The new complex boasts tremendous facilities including:
A bright and airy superbly-equipped gym and fitness studio upstairs, boasts revolutionary cardiovascular equipment including six treadmills, five Crosstrainers, five stationary bikes, and two Concept II rowers.
This gym will offer various fitness classes and courses, with large communal changing rooms and shower facilities on both ground and first floor levels.
All of the facilities in the new complex are fully wheelchair accessible, in both the dry and wet areas.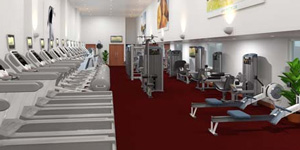 Activities
All activities previously undertaken at Claremorris pool continue in the new complex.
These will include public swimming times; children's and adult swimming lessons; use of the facility by schools in the area; swimming and waterpolo club training and competitions and more.
Membership of the Centre is open to the public, or patrons can operate on a pay-as-you-go basis.
Contact
Claremorris Leisure Centre
Dalton Street
Claremorris
Co. Mayo
Tel: +353 (0)94 93 71313