Elements of Traditional Irish Shopfront in Co. Mayo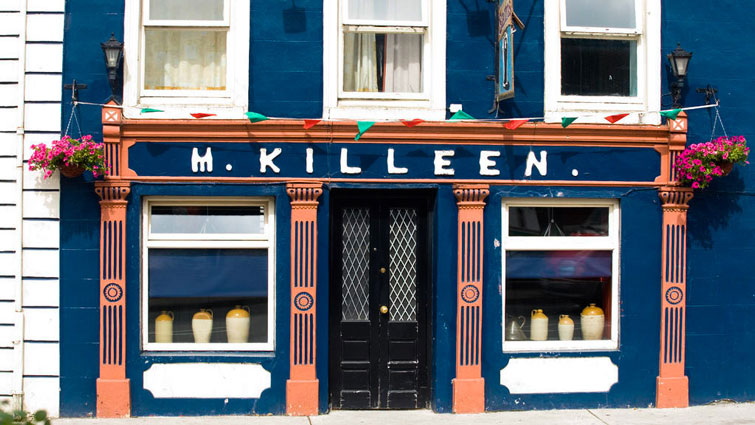 Elements of Traditional Irish Shopfront are:
THE ENTABLATURE
The entablature, built as device for throwing off the rain, became an important element that incorporated the name of the shop. Usually it was closed by elaborate consoles.
The proportion between entablature and shopfront elevation was constant at 15%.
It was also called fascia or signboard.
THE CONSOLE
The Console, also called bracket, usually was carved with an S-shaped double volute using many different patterns.
THE PILASTER AND THE COLUMN
They framed the shopfront and support the entablature.
In Mayo many pilasters were square in section and decorated on the cap and base. Some columns were detailed with Tuscan, Doric, Ionic and Corinthian orders.
THE WINDOW
Usually the window were divided by slim mullions plain or moulded. Among the old 19th century shops round-headed windows decorated with spandrels were very popular.
Windows may have had decorative grilles or opening fanlights.
THE DOOR
The door and doorway were usually in line with the plane of the shopfront, but some of them could have deep alcoves decorated with mosaic or tiled thresholds.
Doors of public houses were normally opaque with a little or no glazing and could bear fine decorative carvings and details. Often they had a fanlight.
Other Things You Might Like