The Charlestown Chronicles, a Book by Cathal Henry
Charlestown born Cathal Henry captures the spirit of his native place and the people in it, in this impressive and fascinating history of a small Mayo town. Cathal's family, the Henrys, have been committed to the growth of Charlestown for generations and have made their mark on politics, commerce and art at home and abroad. Cathal's decision to draw together the many articles on Charlestown, its characters, its people and its hinterland is an example of his unselfish commitment to his home town. Historical articles on Charlestown in County Mayo.
Painstaking historical research using a combination of letters and articles, intertwined with lively and affectionate personal recollections, has produced a history of places, events and most importantly people, connected with this strategic town in County Mayo. For Cathal, the work has been a labour of love and yet another important contribution to Charlestown and to Mayo. In 'The Charlestown Chronicles', Cathal Henry has immortalised many significant issues that have shaped his native place, resulting in a book to be treasured by present and future generations of Charlestown people across the globe.
Copies of the book are available from Cathal.
Price: euro 20 incl postage
Contact:
Email: cahenry01@hotmail.com
Tel: +353 (0) 94 925 4728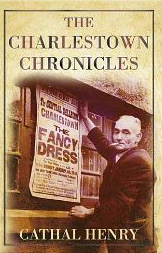 Other Things You Might Like