And That's How It All Started
An Introduction by Joseph Berry to 'Westport The Tear and The Smile'
I've been blamed for lots of things throughout my life and now, it seems, I'm getting the blame for 'The Tear and The Smile', the latest offering from that prolific songster, poet, author and man of many other parts, Joe McNally.
According to his own foreword Joe credits me with sowing the seeds of 'The Tear and The Smile' in his ever-fertile mind. Apparently we had a conversation some years ago and I suggested to him that he might write a series of articles about old Westport, its people, its characters, the ups and downs of community life and so on.
I had no idea he would take my suggestion seriously, but he did and the end result is a work of several hundred pages, written in an easy style that recaptures a yesteryear long gone and is bound to become an important document of social history in the years ahead.
I would not be alone in thinking that when Joe McNally was born they threw away the mould. He was a one-off, a covey unlike most other coveys, a writer and singer of songs whose own life very much epitomised the words of the song that brought international fame to Sinatra, 'I Did It My Way'. Joe certainly did it his way. If Customer Care Awards had been around in Joe's working life he would certainly have taken his share of them, for he was undoubtedly one of CIE's best-ever PR people. Any tourist going into the Bus Office on The Mall looking for information about Westport was given the full treatment by Joe; time was of no consequence and it mattered little that queues were growing outside, with people looking for bus times and other travel information. Sure, when God made time he made plenty of it and, if they didn't make this bus, there was always the next.
Long before tourism became the industry that it is now recognised as, Joe was a one-man tourist information office in Westport and we never fully appreciated it. In future re-prints of 'The Tear and The Smile' there will have to be a new chapter added, that about the man himself. While he captures with uncanny accuracy a thousand aspects of old and not so old Westport, he refrains from writing in any great detail about himself.
That is an omission that will have to be put right, for in writing about Westport's 'characters' there are few who can boast the varied life which Joe himself has lived. His sense of humour made the Bus Office on The Mall a daily stop for those who felt the need of a little daily laughter in their lives; usually they got a lot more than they bargained for.
His McCormack-like tenor voice was and remains a joy to listen to. But while voices of lesser quality made it to places like Covent Garden and Carnegie Hall, Joe was content to do the parish halls of West Mayo and, more often than not, giving his services in support of some worthy cause or other. His literary talents were expressed in his poetry and essays and, happily 'The Tear and The Smile' ensures that some at least are handed on to posterity. In one memorable year he produced his own series of Christmas Cards, a worthy innovation, but one which showed that Joe was before his time. 'Personalised' Christmas Cards are now all the rage, but Joe's venture almost succeeded in having the triple effect of putting himself, the late Mattie Clarke of Liptons and the printers (yes, you've guessed it, yours truly) out of business. Happily, we all survived to fight another day.
Apart from his interest in greyhounds, he also made a foray into farming, 'specialising' in goats and a solitary milch cow, all of which had a particular liking for the fertile grass on the lawns of the St. Mary's Crescent houses. Neighbours were sometimes incensed, but sure what was the point? Joe was Joe and, despite the occasional misdemeanours of his stock, there wasn't a bad bone in his body. Joe's 'The Tear and The Smile' makes for some wonderful travels through time and is compelling reading for coveys of all ages, those who can remember much of what he writes about, and the younger set who will gain some inkling of how their forebarers lived. The title is most appropriate, for you will, indeed, laugh and cry as you travel through its pages.
If, indeed, I was responsible for putting the idea of the book in Joe's head, then I am more than happy to take credit for it. He is the quintessential 'covey', a true blue Westportite who enriched the lives of a great many people in his own journey through life which, no doubt, will continue well into the new millenium and far beyond.
Ní bheidh a leitheid ann arís.
Joseph Berry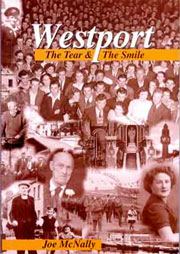 Other Things You Might Like