On the Edge of the Loch, A Book by Joseph Éamon Cummins
This critically-acclaimed new novel by Dubliner Joseph Éamon Cummins, whose family roots are in Ballina, is a global adventure that takes in the US, Ireland and Iraq, with most of the action happening in County Mayo. Mayo locations mentioned in the novel include: Mweelrea, Aasleagh Falls, Westport, Louisburg, Croagh Patrick, Liscanvey, Nephin Begs, Sheffrey Hills, Killadoon, Doolough Valley, Murrisk, Achill and Knock.
It is not simply an edge-of-the-seat adventure -though it has been called that- it's a dramatic story about three exceptional people shaped by misfortune and war, each obsessed with a dream.
This work explores survival, family, identity, and the passion for freedom, a suspense saga that gets inside the lives of a small group of individuals dealing dangerously with issues that trouble us all, primarily the urge to love.
Here, language and drama reveal how minds work, allowing readers insights that are not 'told' to them (as in pop fiction). Instead, the reader is never ahead of the action, but is nervously judging and detecting and discerning as the story unfolds, in order to try predict how -and whether- all the strands will tie together.
Along with being a 'compelling read' (according to every critic to date), it is also an intelligent depiction of our driving emotional needs and desires, those qualities that make us human, and alike, especially when deprived.
On the Edge of the Loch has something to teach us all.
Reviews
"New, unmistakably Irish, a social and psychological cosmos of evocative writing, the authenticity of J.M. Synge, the thuggery of Brendan Behan . . . one exquisite insight after another into the mind of the protagonist, what it is like to be lost and flawed, maybe insane. 
I found it compelling, each chapter a literary or visceral delight; I could neither wait for nor predict the sublime outcome. I commend this work in the strongest way. It has epic qualities."
Jack Engelhard, International Best-Selling Author of Indecent Proposal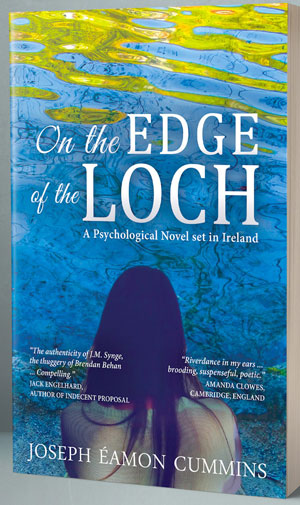 Other Things You Might Like