Wild Mayo, a Book by Michael Viney
Wild Mayo is a gem of book, a celebration of the Mayo's fascinating strong nature. Mayo has a plethora of habitats which ranges from mountain summits, through rolling peatlands, to unspoiled shores, across a lacework of lakes and rivers, very well described by the Author who has an intimate knowledge and great empathy for this beautiful county.
The book is a wonderful picture of the landscape boldly coloured by climate and dramatically worn by the Ice Age, a real journey of discovery for all readers.
The Author highlights the uniqueness of this corner of Ireland and explains how Mayo's landscape came to be and what makes it special and how the various habitats were formed. He also illustrates the flora and fauna and how they interact down to the smallest details.
The book is precious contribution to the understanding of the value of Mayo's habitats and species, some of which are important not just in a national context but also internationally.
The Author
Michael Viney, writer, painter and naturalist,with a parallel career in broadcasting, film-making, lives on the Mayo coast below Mweelrea Mountain, near Louisburg. He has written and illustrated a weekly column on nature and ecology for The Irish Times for more than thirty years.
Reviews
Wild Mayo is a gem of a book, brilliant and beautifully written, and one which I constantly consult for reference.
A wonderful read, penned by someone who has both an intimate knowledge and great empathy for Mayo and its wild places. A terrific overview of this corner of Ireland for both visitors and residents alike. A book that deserves a place in every home in the county.
Colin Stafford Johnson, Wildlife Cinematographer.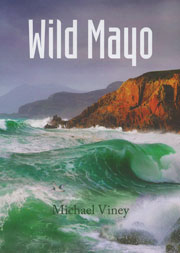 Other Things You Might Like