Claremorris in Retrospection, a Book by M.J. Reidy
"This book has many stories of successful Claremorris ventures and it was fortunate that the town had great community leaders in the second half of the twentieth century, who helped to mould the town into the friendly, prosperous place it is to-day."
"Some readers of the book will remember many things recorded and others will get information about Claremorris in the past"
"The book has a little history and a few memories of Claremorris in times when virtue, character and a sense of responsibility and common pride were as prized as expensive houses, fancy cars and high social status." "I hope the book, which has some facts, some figures and dates and a lot of personal memories, will give readers some enjoyment".
The book has maps, photos of people (one dated 1/1/1900) and places and memorable achievements and two great poems-one in Irish and one in English by two famous poets as well as stories and essays.
The list below gives an idea of the valuable resource this book will be for the people in and around the town of Claremorris: Market Square, Fair Green, Carnivals, Ronayne's Brush Factory, Cattle Mart, Hollybrook Ice Cream Company, Bakeries, Garages, Old Town Hall, Blacksmiths, Bacon Factory, Milk Plant and "The Creamery", Savoy Ballroom, Carpentry Workshops, Hotels, Central Cinema, Town Schools, Builders, Court House, Mount Street- Remembered, Industry, St Michaels Convent, Racecourse, Chapel Lane, Residents of Properties from 1900 to 2000, "Water on Tap" in 1900, John Gray- a Mount Street Man and Castlemacgarrett Nursing Home.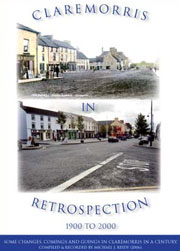 Other Things You Might Like