On The Banks of The Robe River, a Book by M.J. Reidy
The book is recorded and compiled by Claremorris man, Michael J Reidy.
Rivers are a wonderful physical feature on the landscape and they have been there since the beginning of time as we know it. The Tennyson poem 'The Brook' is very descriptive of the phenomenon of the perpetual motion of the river:
'I chatter, chatter as I flow To join the brimming river For men may come and men may go But I go on forever'
Today we are all too busy to stop and think about where we are and what surrounds us. This book is about the Robe River and many of the things associated with it in the past and many features dating back a couple of hundred years. With the passage of time and drainage works, many physical features and even the course of the river, have changed.
Day after day the Robe River flows a distance of twenty-eight miles through the parish of Crossboyne from Castlemacgarret North to Curroughadooey and, like many other beautiful things around us, we take it for granted. As it flows from its source it gets wider and wider with the help of its tributaries and, at the bridge in the village of Crossboyne, has a width of eighteen metres. On its way it separates townland from townland and parish from parish. It's our local river and many people in South Mayo pass over and pass by it daily.
This book is a historical journey along the banks of the Robe River that flows through Crossboyne. The journey begins at the source of the river and moves along the banks, passing beautiful bridges, picturesque countryside and historic locations, to where the journey ends when it flows into magnificent Lough Mask. Interspersed with an abundance of attractive photos, the book is well researched, interesting and informative.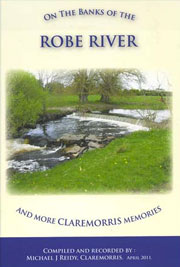 Other Things You Might Like