The Abduction of Anne O'Donel, a Book by Paul McNulty
Eighteenth century Irish heiress, ANNE O'DONEL has attracted two suitors, the elderly lawyer, TIMOTHY BRECKNOCK and the dashing JASPER MARTIN. Although she is in love with Jasper, her father JUDGE O'DONEL will not agree to the match. When he decides that Anne must marry Brecknock, she rebels and becomes secretly engaged to Jasper. In an attempt to discredit him in Anne's eyes, Brecknock accuses Jasper of philandering, and when this does not succeed, he orchestrates an attempt on Jasper's life.
Frustrated by his failure to woo Anne, Brecknock lures her out of her house late at night using a letter forged with Jasper's signature. Expecting to meet her lover, Anne is abducted by four masked horsemen and taken to a remote island on Lough Conn. She is held prisoner by the Mitchell family who are under threat of eviction should she escape. Brecknock visits Anne on the island, still believing he can persuade her to marry him. He appeals to her intellect, introducing her to the world of letters through stories of romance, politics, Evangelicalism and alchemy.
Believing that Jasper will find her, Anne plays a dangerous game: trying to convince Brecknock that his suit may have some hope, while delaying her agreement to marry him. Despite Jasper's ceaseless searching, time is running out for her. Brecknock's increasingly irrational behaviour drives her to plan an escape from the island. When this fails, she persuades Mitchell's daughter, SALLY, to take a message to Jasper. Incensed by her attempts to frustrate him, Brecknock is determined to have Anne, willingly or not. Having finally rejected his proposal of marriage, she prepares to fight for her virtue, and perhaps her life.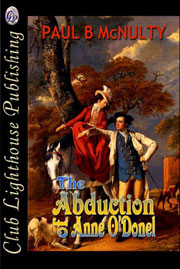 Other Things You Might Like