Tales from the West of Ireland, a Book from S.Henry
Tales from the West of Ireland is a collection of folk history from County Mayo. Some of the stories are based on actual historical events: for instance, 'Bliain na bhFrancach' and 'The Aftermath' tell of the effects of the French invasion of 1798 and the terrible aftermath of Ballinamuck, the battle in which the rebels were routed. 'Great Grandmother's Tales' describes life in rural Ireland during the Famine and the conditions of those times in a way that conventional history never could. In stories like 'The Bellmen', 'Elopements' and 'Waking the Gael', the reader gets a glimpse of the customs and traditions of Ireland long ago.
Tales from the West of Ireland is an enthralling glimpse of an eventful past with all its sadness, and an evocation of the indomitable spirit of a people.
CONTENTS:
Foreword, Bliain na bhFranncac, The Aftermath, Great Grandmother's Tales, Old Animal Charms and Cures, Matchmaking and Elopements, Scrawing and Burning, The Bellmen, Achill Breezes, Window on the Past, The Night of the Big Wind, Waking the Gael, Before the Famine, Mountain Dew, In Feudal Days, The Friar's Christmas Night, The Moy Corries, The Ultachs, Old Charms and Customs, The Lad from Inishkea, A Tale of Barnalyra Wood, Captain Gallagher and Dudley Costello.
Sean Henry was born in 1904 in Ballydrum, County Mayo. He emigrated to America in 1924 and returned home in 1931. He worked with Mayo County Council as a supervisor on road and bridge construction, turf production and later, until retiring, as waterworks supervisor. He wrote many pieces on local and national history, compiling these Tales from the West of Ireland during his retirement. He died in 1986.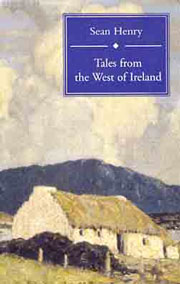 Other Things You Might Like