The Famine in Mayo 1845 - 1850, a Book by Ivor Hamrock
The Great Famine of 1845-1849 was the most tragic episode of Irish history. In County Mayo it struck harder and turned into a massive human tragedy. The population declined by 29 per cent: deaths and emigration accounted for the loss of 114,057 of people.
This book is not intended as such a study, but it wants to be a real portrait of the lives and deaths of Mayo's people as recorded by witnesses in newspapers, official records and books. It provides also a stark picture of life in famine times covering many topics including diet, evictions, emigration, workhouses, relief measures and charity.
Every Mayo's town, village, parish and townland has its own section in each chapter: touching and sometimes shocking stories, lists of families evicted and dead.
The material is drawn entirely from contemporary sources - eyewitness accounts, official records and reports in local newspapers of the period - and is illustrated with prints, photographs and maps. The most of the articles are original and the spellings of the placements are also as in the original.
Reviews
Compulsive reading... Powerful and touching... This is easily in the running for the best local famine history we've seen. -Books Ireland
A comprehensive record of the famine and it's dire effects on the county. A visually pleasing and rewarding publication. -Irish Times
A graphic and immediate picture of the horrors of the time. -Sunday Tribune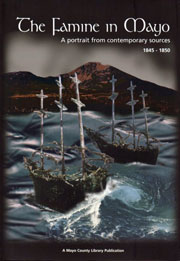 Other Things You Might Like