Tracing your Mayo Ancestors, a book by Brian Smith
The families of Mayo are a mixture of natives families, of gaelic families who migrated from Ulster in the 18th century and of English and Scotch-Irish settlers who came to Mayo from the 17th century onward. However, Mayo experienced a high level of emigration to North America, Scotland and elsewhere in Britain.
This book sets out the records available to the family history researcher, detailing each source, its location and reference.
Reviews of the first edition include:
"… there is a wealth of information crammed into this little book"
~ The Connecticut Nutmegger (USA)
"The book is an admirable piece of work
~ Family History Monthly (UK)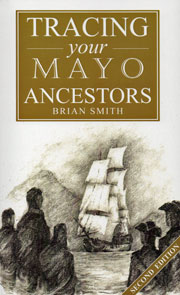 Other Things You Might Like