Cinnamon-Apple Pie Cake is not a pie, but it isn't a cake.
It can be considered a cake because a cake batter is poured in and its consistency is similar to a proper cake but on the other hand it can be considered a pie because there are many apples involved.
The key to success of this delicious dessert is the simplicity
Did you know?
The Bramley apple is the oldest variety widely planted in Ireland. It was first cultivated in the late 1880's and then it has become more and more popular in the following years. This large size apple, which makes peeling easy, is the most successful Irish cooking apple. Once cooked it has a lighter flavour and it becomes golden and fluffy.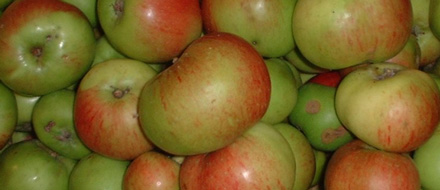 Prep time: 1 hour
Cook time: 1 hour
Serves: 10 portions
Ingredients
Directions
Wash, peel and slice the apples into a bowl, add sugar and 1 teaspoon of cinnamon.

Sift the flour, the sugar, the baking powder and salt in another bowl and add the melted butter, the cinnamon left and the beaten yolk.

Knead to form a pliable dough and leave to stand 30 minutes.

Divide the dough in half and on a floured surface form two rounds about 1 cm thick.

Put one round in a greased cake tin and arrange the apple mixture and top with the other,sealing the edges.

Pierce the top.

Bake for 10 minutes to 220°C and then for 35/40 minutes to 200°C.

Take out of the oven and dust with vanilla sugar.