Colcannon is a traditional Irish dish made from mashed potatoes, kale or cabbage with milk or cream, butter and salt and pepper. It may contain scallions, leeks, onions and chives.
This dish is served at Halloween with ham or Irish bacon and in the past there was the tradition to hide a ring , a thimble or sometime small coins in the fluffy dish.
In Irish it is called Càl ceannann meaning "white-headed cabbage".

Prep time: 45 min
Cook time: 10 min
Serves: 4 servings
Ingredients
Roosters potatoes : 500 g
Curly kale or savoy cabbage : 250 g
Onion : 1
Cream : 100 ml
Butter 60 g
Salt and pepper
Directions
Boil potatoes and kale separately in salted water for 15-20 minutes until tender.

Heat the butter in a heavy-based pan and when the butter is melted add the onion finely chopped and brown.

Add the sliced kale, the mashed potatoes and the cream.

Stir well.

Cook gently for few minutes.

Season to taste with salt and pepper and serve.

It is a great accompaniment to any meal!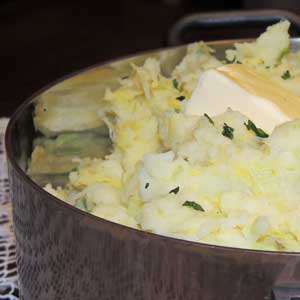 Other Things You Might Like