In the past Porter was an English stout widely used all over Ireland for cooking or drinking known also as "the working man's pint".
Nowadays Guinness, first brewed in 1759 in Dublin, is commonly used when making this rich fruit cake.

Prep time: 30 minutes
Cook time: 1 hour
Serves: 10 portions
Ingredients
Guinness : 180 mls

Sultanas : 250 g

Eggs : 2 lightly beaten

Flour : 350 gr

Salted butter : 150 g

Soft brown sugar : 150 g

Baking powder : 16 g

One teaspoon mixed spice
Directions
Set oven to 160°C

Put Guinness with butter and sugar into a saucepan and as soon as it begins to boil remove from the heat.

Add sultanas, stir well and leave to stand until cold.

Sift together the flour, baking powder and spice in a bowl, then add the beaten eggs.

Add the mixture Guinness with butter, sugar and sultanas and stir well.

Turn the dough into a greased loaf tin.

Bake for 1 hour covering the top with kitchen foil if it appears to be browning too quickly.

Allow to cool completely in the tin.

Wrap the cake in greaseproof paper and store for several days.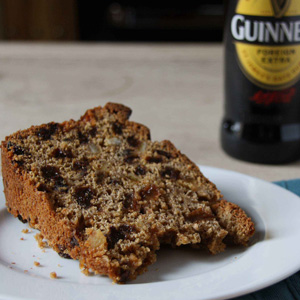 Other Things You Might Like