Soda bread is a quick bread in which soda or sodium bicarbonate is used as raising agent instead the more common yeast.

Ingredients
All-purpose flour : 450 gr

Salt : One teaspoon

Bicarbonate of soda : One teaspoon

Buttermilk : 200-300 ml

Directions
Set oven to 220/250°C.

Shift the flour, the bicarbonate of soda and salt togheter in a big bowl.

Add the buttermilk and start stirring.

Mix to a very soft dough not too "floury".

Turn out on to a lightly floured surface and knead very quickly until smooth.

Form circle or flat hemisphere about 15-20 in diameter and put on the baking sheet.

Cut a cross right across the circle

Bake for about 40 minutes or until well risen.

Tips If you don't have buttermilk, just add a quarter of a teaspoon of lemon juice to fresh milk.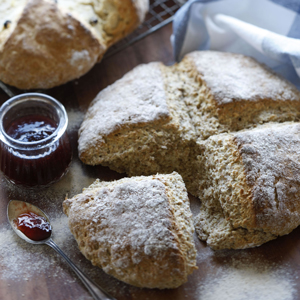 Other Things You Might Like