Eva O'Flaherty, the Forgotten Heroine, People from Co. Mayo
Eva O'Flaherty was an active Irish nationalist, a fashionista and businesswoman.
She was born on 31st March 1874, in Lisdonagh House, Caherlistane, on the shores of Lough Hacket in Co. Galway, but the remote Achill Island became her home since the early 20th century.
She was the daughter of Martin O'Flaherty and Mary Frances Barbara O'Gorman Lalor O'Gorman.
Both her parents were strongly Catholic nationalists. Her father defended John Mitchel during his 1848 Treason-Felony trial, while her mother was the daughter of Richard O'Gorman, Daniel O'Connell's colleague, and sister of Richard O'Gorman Jr, Young Irelander.
Also, her uncle was Purcell O'Gorman, the O'Connell's 'second' for his famous 1815 duel with D'Esterre.
She went to school in Mount Anville and Alexandra Colleges and then trained in millinery at the end of the 19th century in Paris where she met Countess Markievitcz.
She afterwards opened a millinery shop on Sloane Street in London and became also a well-known beauty in the Café Royal. Here she got in touch with an eclectic group of intellectuals and artists.
Many of them visited her in later years in Achill including WB Yeats, Paul Henry, George Moore, Marie Howet, Graham Greene, Heinrich Boll, Constance Markievicz, Douglas Hyde, Padraig and William Pearse, Cardinal Dalton, Paul Henry, George Russell and Dr Kathleen Lynn.
In 1910 she moved to Achill Island where she was co-founder member of Scoil Acla with the poet, journalist and, later, politician, Darrell Figgis, Colm O'Loughlainn and Anita McMahon.
Also, she established the St. Colman's Knitting Industry in Dooagh. St. Colman employed local women for almost fifty years and developed an extensive clientele from all over Ireland including Brown Thomas, Arnotts, Slowey and Switzer.
By 1914 Eva was a member of Cumann na mBan in Dublin, with Louise Gavan Duffy and it is believed she was one of the sixteen couriers known as 'basket-women' during the Easter Rising in 1916.
The 'basket-women' carried messages in the baskets of their bikes, often fooling the sentries by bursting into tears and claiming to have a sick relative in need. They had been chosen by Kathleen Clarke and Sorcha McMahon at the behest of Tom Clarke and Sean MacDermott.
After the Rising, according to William Comerford, father of Solicitor Henry Comerford, Eva mixed up with Maud Gonne and the other women involved with the prisoners and the later Women's Prisoners Defence League.
Then she moved back to Achill Island and kept running the St. Colman's Knitting Industry. Artist Paul Henry became a close friend and writer Graham Green played cards regularly in her home.
She is still fondly remembered on the island as a fair lady to work for or a sharp intellectual with a heightened political awareness, an island heroine which deserves not to be forgotten.
In April 1963, Eva died and was buried in the O'Flaherty family crypt in the graveyard of Donaghpatrick, Caherlistrane Co.Galway with her coffin draped with a tricolour and given military honours. President Eamon De Valera sent Senator Mark Killilea as his government representative to deliver the oration at her funeral.
Thanks to Mary J. Murphy, biographer of Eva and author of the book: "Achill's Eva O'Flaherty: Forgotten Island Heroine (1874-1963)".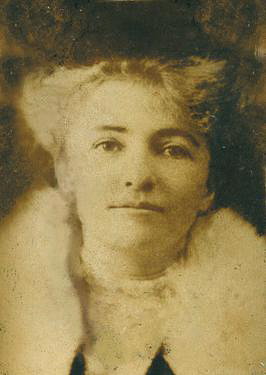 Other Things You Might Like