Native Games of Ireland

The "national" games of Ireland are played today by the Gaelic Athletic Association or GAA, set up in 1884 "for the preservation and cultivation of National pastimes" and they are at the core of Irishness.
The most famous native sports are: hurling, camogie and Gaelic football.
Hurling
Hurling (in Irish Iomànàìocht) is a very ancient sport with its roots in pre-Christian times invented by the celtic warriors. It has been played for over 3,000 years and it is one of the fastest field games in the world. Every team has fifteen players: 1 goalkeeper, 6 backs, 2 midfielders and 6 forwards. They use wooden flat sticks called "hurlies" (in Irish Camàn) to hit a leather ball called a sliotar.
The players can catch the ball with their hands, carry it for not more than four steps, strike it in the air or on the ground with the hurley.
The objective is to pass the ball through the other team's goal in order to score (a goal is worth 3 points).
The pitch is 130-140 metres long and 80-90 metres wide. The match lasts for 70 minutes.
County Mayo is not a traditional hurling county, but hurling is the dominant sport in some areas; there are 6 Senior hurling clubs: Tooreen, Ballyhaunis, Castlebar Mitchell's, Westport, Ballina-Stephenites and Belmullet, who compete for the TJ Tyrrel Senior Hurling Championship. This sport at underage level is also expanding in Mayo with 4 main clubs: Ballyvary, Moytura, Caiseal Gaels and Claremorris.
Did you know?
Mayo GAA is responsible for Gaelic games in County Mayo. The country colours are green and red. The ground is McHale Park in Castlebar Standard kit is green and red.
Camogie
Camogie is the female version of hurling and it has almost identical rules, the grass pitch is the same; the match lasts for 60 minutes. In Mayo there are 3 clubs, the main one is Na Brideogra Camogie Club based in Tooreen who have teams at all grades from under-6 upwards.
Gaelic Football
The GAA's major sport is Gaelic football (in Irish Peil Ghaelach), a sort of safer form of hurling and a mixture between soccer and rugby. Games are fast and furious and the contact between players is aggressive. Like hurling every team has fifteen players and consists of a goalkeeper, six backs, two midfielders and six forwards.
The players can carry, bounce, kick and hand-pass the football, a spherical leather ball. The objective is to score points and goals, the same as in hurling.
County Mayo is very good at football and Mayo's senior Gaelic football team play in the Connacht Senior Football Championship and they have been in the Final in 2012 and 2013. There are many clubs in Mayo and they are in divisions in North, South, East and West Clubs.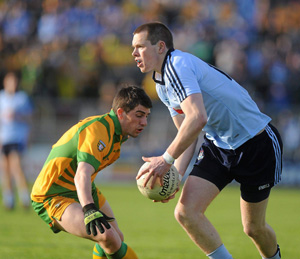 Horse Racing
Horse racing is a very deep rooted passion in Irish culture and it is often called "the sport of kings" because, in Celtic times, it was limited to "princes and sons of noblemen" according the "Brehon" law.
The Mayo people's "love affair" with all things equestrian runs deep. In County Mayo there are many places where it is possible to see horses in action: cross-country races, horse trials and show jumping events are held in the Summer.
The only racecourse in Mayo is located in Ballinrobe where race meetings have been recorded in the area since 1773 and it boasts the only Race Course in Mayo, where racing has been held since it was purchased in 1921. Races are a frenzy of excitement and the seriuos business of backing winners and losers is done in a vibrant and fun environment.
Exciting horse racing events on the beach are held at Lacken and at Doolough during the Geesala Festival.
The Lacken Strand Races were revived in 1997 and take place towards the end of May each year, in line with ever-changing tidal conditions; nowadays they have become one of Ireland's leading events.
The Geesala Festival was held in 1993 and includes horse racing, show-jumping and greyhound racing too.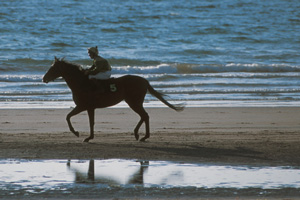 Other Things You Might Like