Mweelrea Mountain Walk in Co. Mayo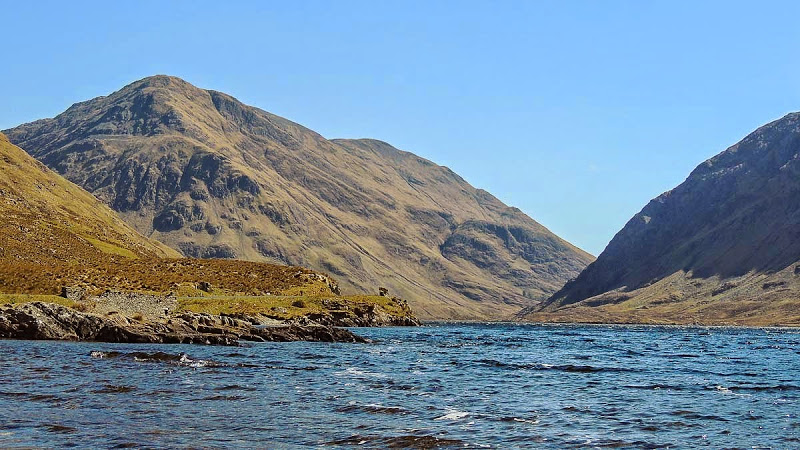 Mweelrea Mountain (814m), near Westport, is the highest mountain in Connaught and is guarded on all sides by craggy slopes giving the impression that it is unconquerable.
It is flanked on one side by Killary Harbour, Ireland's only true fjord and on the other side by Doolough Pass, a glaciated valley.
There are no easy ascents of this mighty mountain and it needs to be approached with care. Reserve a clear day for the climb and enjoy the panorama of the mountains, coast and surrounding islands.
Access
Approach on the R335 either from Louisburgh to the north or from Leenane to the south. The route starts and finishes at Delphi Mountain Spa and Lodge (Grid: L840652).
Allow plenty of time for this difficult ascent and should visibility be poor make constant use of your map and compass.
The Route
From Delphi Adventure Centre follow the Owenaglough River upstream. The route here is boggy and crosses some rough ground.
After leaving the forest continue across the grassy bog heading in the direction of Shruhaunbunatrench, which you continue to follow upstream.
Don't go quite as far as Lough Lughaloughan, but head up to the left towards spot height 495. A steep climb lies ahead towards the summit of Mweelrea but the going gets easier as a path becomes obvious.
The path stays close to a cliff edge as you make the ascent towards the 814m summit, which is marked by a cairn.
Leave the summit by walking in a northeasterly direction along a relatively easy crest, branching northwards to go down towards a gap.
Following this descent there is a rugged slope to climb to bring you to the summit of Ben Bury (795m). There are a number of Cairns near the top but the summit lies on an area of boulders art 795m.
Walk in a southeasterly direction from the summit of Ben Bury to go down to a gap. As you climb uphill you will find yourself crossing a narrow ridge.
This ridge is called Ben Lugmore, which has a number of peaks the highest of which is 803m. The ridge follows a southeasterly direction for the most part, suddenly taking a northeasterly direction.
Care should be taken over the final descent as the ground starts to get steeper. Follow the broad spur between the Shruhanboy and Shruhaunprampoge rivers.
Continue to forge ahead across this boggy, scraggy ground until you reach the Owenaglough River. You may be able to reach a footbridge otherwise you will have to find a suitable location to ford the river.
Once you have crossed the river simply follow the river downstream through the forested area until you reach Delphi Adventure Centre.
Map
OSI 1: 50,000 Discovery Series Sheet 37. By Brian Hoban 
Many thanks to Mr Paul Moore for use of this footage of Mweelrea Mountain.
Other Things You Might Like