The Glorious County Mayo

by Gabriel Filan first published in 'The Harp' magazine Oct 2012
The phrase "hidden treasure" crops up frequently when talking about travel destinations. And who doesn't dream of finding a hitherto undiscovered gem, in part just to be able to enjoy the sense of smug satisfaction about having unearthed somewhere special when sharing your discovery with others.
While it might be an over-used cliché there are many cases where it's true, in fact I think Ireland has many hidden travel treasures that don't make it on to the main tourist trails yet are well worth a visit. Of course the big advantage of hidden treasures is that they're generally not swamped with tourists. And County Mayo is a case in point.
It's Ireland's third largest county, yet outside of Westport, the Céide Fields and Croagh Patrick you won't find it on many tourist itineraries. Which is a shame as it's a destination I've been visiting for many years and where I always seem to find something new and exciting. To prove a point on my last visit I avoided its three hotspots, though I did drive through Westport on one occasion.
We stayed in the Pontoon area near Foxford, a tranquil, charming and breathtakingly beautiful spot that takes its name from the point where two lakes, Lough Conn and Lough Cullen, meet. If ever there were lakes and mountains waiting to be painted they are to be found here, particularly the majestic mountain Nephin (Mayo's second highest) as its Volcano-like shape seems to almost sweep down to the lake shore.
It's a popular fishing spot and you can swim in the lake too - it even has its own sandy beaches. It is remarkably unspoilt, with two hotels located on the edge of the lakes and not a lot else. The smaller of the two, Healy's, is currently being refurbished following a fire but the Pontoon Bridge Hotel offers awesome lakeside views as well as a warm welcome, particularly in its Lakeside Restaurant.
The holiday property we rented, Pontoon House was both a luxurious and calming retreat, again boasting impressive views over the lake and the hilly rocky landscape surrounding it is the sort of scenery on one's doorstep you would never tire of.
There's a great deal within easy access of Pontoon. The closest attraction is Foxford Woollen Mills where you can learn how a plucky nun, Mother Agnes Morrogh-Bernard, took the plunge into the corporate world in 1892 to provide an income for local people. If you like to kill two birds with one stone then a short hop away you can take in the 800-year-old Turlough Round Tower of and the National Museum of Ireland - Country Life, which offers a truly fascinating insight into how people lived between 1850 and 1950. The scary thing was there were exhibits on show that I recalled when visiting Ireland as a child.
Another amazing place, just outside Swinford and less than half an hour's drive is Hennigan's Heritage Centre where you can get a more personal hands on insight into the way country folk in Mayo used to live. A bygone era is brought vividly to life by proprietor Tom Hennigan, who has turned his former family home into a mini museum dedicated to how life in Ireland used to be.
The nearest metropolis to Pontoon is Castlebar, Mayo's county town and a busy and bustling spot that's great to look around or go shopping in. We ventured beyond it to Achill Island, Ireland's largest offshore island, which is hardly a hidden gem but always a great place to visit. This local holiday hotspot's rugged landscape might look bleak on a winter's day but is truly majestic on a glorious summer's afternoon. We braved the sea at Keel Beach (wearing wetsuits of course) and enjoyed the exhilaration of running into the Atlantic surf.
It's easily the sort of place one could spend a week and I love the lively pubs, particularly the Annex Inn, where you can experience one of the best traditional music sessions to be found anywhere in Ireland that are held nightly during the summer months, as well as a great pint of the black stuff.
The Annex also offers accommodation at six newly-built holiday cottages in Keel that have been completed to a very high specification and offer stunning views of the Atlantic Ocean. The beach and local shops are just a five-minute stroll away.
There were many other places to visit but we didn't find the time, I particularly fancied returning to Ireland's 'Titanic Village' of Lahardane/Addergoole, only about 15 minutes from Pontoon where you can discover how 14 people from a tiny townland were on the ill-fated ship when it went down. Much has been done locally to commemorate them and I expect with this year being the 100th anniversary there are big plans afoot.
  Going back to those hotspots I do love Westport and I have yet to successfully climb Croagh Patrick (I've got as close as 100 metres from the top). I've never been to the Céide Fields and did fancy going during our stay but we were put off by the fact it was a long trek and the relatives we were due to meet there told us the weather had turned.
I also fancied unearthing some more hidden treasure and a trip to the lusciously long sandy beach at Enniscrone just over the border in County Sligo. Time might have run out but I was left with plenty of reasons to make yet another return visit.
The Harp news is a free community based monthly publication for the Irish Community living in the UK.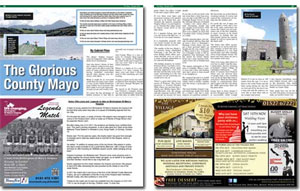 Other Things You Might Like