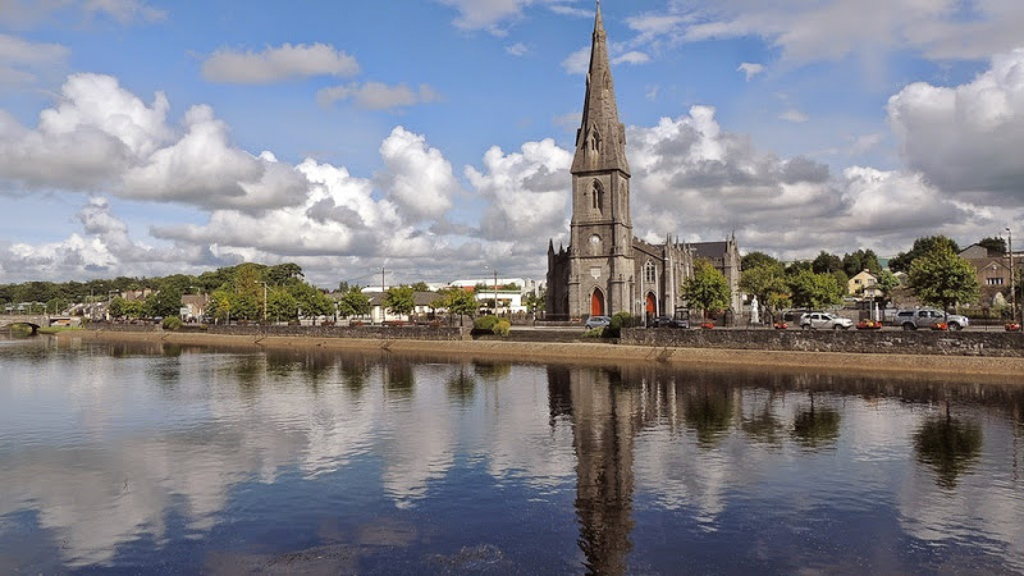 St. Muredach's Cathedral is the Cathedral Church of the Diocese of Killala. Work on the Cathedral began in 1827 under the aegis of Reverend John MacHale (1791-1881), Coadjutor Bishop of Killala, following the design of Dominick Madden (d. 1837) of Galway.
The stone was quarried locally and the roof and ceiling were completed before the Great Famine of 1845. The spire was completed in 1855 after designs by the architect James Joseph McCarthy (1817-82).
In 1875 the organ had been commissioned.
The Cathedral evokes the Madden-designed Catholic Cathedral of the Assumption built between 1827 and 1834 in Tuam. They bear the same the cruciform plan form, aligned along a liturgically-correct axis.
Throughout the nineteenth century, it has been improved with the tower.
Notable are its the sparrow pecked facades in sheer limestone, the "pointed" profile of the openings in Later English Gothic style, the chancel defined by an elaborate "East Window" and the pinnacles embellishing the roofline.
Over the years St Muredach's Cathedral was enriched with an altar donated by Kenelm Henry Digby (1800-80), the Feeney Memorial "East Window" signed by Franz Mayer and Company of Munich and London, a mosaic work attributed to J.J. O'Hara and Company of Lincoln Place, Dublin, side altars by James Pearse (1839-1900), Monumental Sculptor of Dublin and a new groin-vaulted ceiling modelled "after" the Basilica di Santa Maria sopra Minerva in Rome.
Other Things You Might Like