Carrowmore Lake in Co. Mayo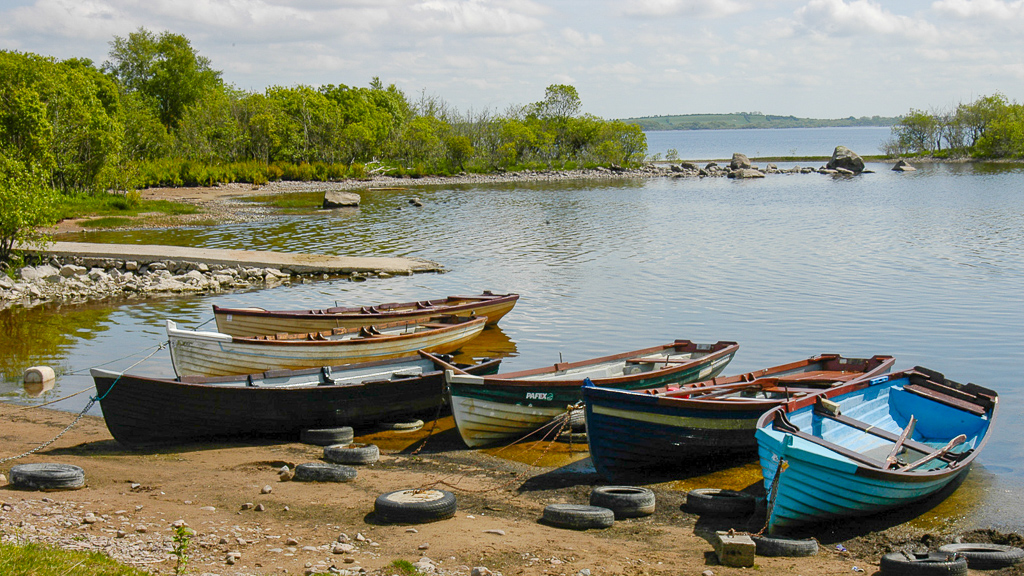 Carrowmore Lake (Irish: Loch na Ceathrú Móire) is situated between the villages of Bangor Erris and Barnatra at the southern end of Broadhaven Bay. The lake is fed by the Carrowmore River and drains into the Owenmore River.
It is 6 km long and almost 5 km wide at its widest point; it covers an approximate area of 1000 hectares of fishing water with a depth ranging from 1 to 6 metres. On its eastern shore, Glencullen townlands are located; on the far shore, Rathmorgan and the Knocknascollop mountains overlook the lake.
The lake is flanked by large areas of blanket bog including Large More Bog. Here bog plants thrive well and merlin and golden plover breed. In wintertime, a wide range of waterfowl and ducks overwinter on the lake and its shores.
Carrowmore is big and stony-bottomed but not deep. Its shallowness is subject to eutrophication and algal blooms.
It provides the drinking water for the whole of the Erris area and has an excellent reputation for spring salmon, grilse, sea trout and brown trout.
Carrowmore Lake is classified as Special Protection Areas (SPA) and Special Area of Conservation (SAC).
Many little islands feature the lake. It is believed some of them were crannogs in use as lake fortifications dating from the Iron Age to as late as the 17th century.
According to local folklore, the Táin Bó Flidhais cattle raid took place here at Rathmorgan, beside Carrowmore Lake.
Other Things You Might Like