Blacksod Lighthouse in Belmullet in Co. Mayo
The Blacksod lighthouse is an old building nestled in the southern end of the Mullet Peninsula near Erris, beside Blacksod Pier. It was built in 1864 and made of local granite blocks.
Building a lighthouse at Blacksod Bay was already discussed in 1841, but it was only in the early 1860s that proposals were sent for approval to the Ballast Board, the Board of Trade and Trinity House in London.
On June 9th 1863, the Ballast Board member visited the area and decided that the ideal position for the lighthouse was adjacent to Blacksod Pier, designed by Alexander Nimmo.
In 1863 John Swan Sloane, appointed superintendent for Ballast Board, signed the plans for the lighthouse.
The Blacksod lighthouse had a miniature medieval fortress structure with a tower flanked by bays, one at each side, where the keeper and his family could live.
Brothers of Smethwick from Birmingham supplied lenses, lights and machinery for the lantern and lighthouse.
On the 30th June 1866, at nighttime, a fixed light showing red and white would be operative and, since that date helping safe entry into the harbour.
This historical lighthouse played an essential role at the end of World War II as a weather-station supplying Britain with meteorological reports under an agreement dating back to the 1921 Treaty.
On the 3rd June 1944, the lighthouse keeper, Ted Sweeney, delivered a weather forecast which unwittingly changed the course of the war. He was at that time providing hourly weather reports phoned into London , but he didn't realise he was sending them to General Dwight Eisenhower and informing one of the biggest military operations in world history.
On that day, he phoned that there was a warning: a Force 6 wind and a rapidly falling barometer at his weather station.
D-Day was scheduled to take place on the 5th of June, but when Eisenhower knew about the weather forecast from Blacksod lighthouse, he decided to delay the landing by one day and potentially saved it from disaster.
On June 4th, a new report delivered by Ted Sweeney from Blacksod lighthouse indicated the weather was clearing which decided the eventual go-ahead for the landing on June 6th in Normandy, and that is the date we all remember: the D-Day date.
Today a plaque unveiled in 2004 commemorates the 'D-Day Weather Forecast sent from Blacksod 4th June 1944' by Ted Sweeney.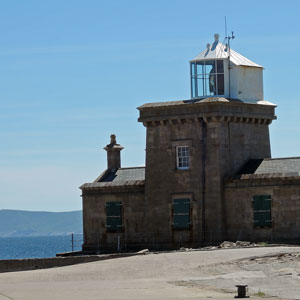 Other Things You Might Like