Delia Henry, Interview with John Lynskey - March 2014
Delia Henry, Music at the heart of the Community
My two greatest interests in life are music and history, particularly local and family history. I grew up in Killaturley, about three miles from Swinford, on a farm originally bought in 1940 by my grandparents, Tom and Bridget Lynskey.
From that time to this, our closest neighbours have been the Lenehan family, well known in the area as musicians of note. I had the good fortune recently of being introduced to the oldest surviving member of that family, Delia Henry (nee Lenehan).
She told me she had many memories of my family and our homestead and recalled having a photograph taken with my grandmother at the gable-end of their house many decades earlier. Mention of the photo sparked my interest but Delia really caught my attention when she told me "I'll e-mail the photo to you".
In today's world that doesn't sound surprising until you take into account the fact that Delia celebrates her 104th birthday on May Day this year. I figured out that Delia's promise was merely an example of her wry sense of wit but a more sincere offer came in the form of an invitation to meet with her to hear some stories about the history of the area and also about her interest in music and its impact on her life. When I met with Delia, I first asked her about where her love of music came from.
"My mother was a lovely singer and my father, well, he wasn't bad, he was pretty good. My father's sister, Mary, was a lovely singer so there was music on his side of the family too. In our house there was a violin and an accordion. The violin was bought for my brother, Mike, when he was only a lad and he could play very well. There were four boys and five girls and all of us could play, some good and some bad."
The farm my grandparents bought had two adjoining dwellings. During Delia's time in Killaturley, the main house was occupied by the Rush family and the other was rented to a teacher, Miss Finn, from the local national school (St. James's NS, Barnacogue). By the time I came along, my own parents had built a new home on the farm and the "auld houses" had become barns for the cattle. I found out that the history of those dwellings and Delia's early experiences of music are very much intertwined.
"Miss Finn taught me in Barnacogue National School. She taught me everything, my religion, my Irish and my music. I started playing music when I was 8 years old. I tried to learn music by note but it's far better to learn by ear. Like everyone in those times, we socialised in neighbouring houses, especially in the Rushes'. We had great fun and dances there. The Rushes were like ourselves, they were great singers and great at music. They had a son Tom, who was a wonderful accordion player. When he wasn't playing, he was my dance partner. Years later, when I went to college he was upset because he had no one to dance with. He went on to become a priest (by no consequence of my departure) and, like most of his family, he left for America."
Delia grew up in a time when emigration ravaged the Irish countryside, in particular counties like Mayo and it's clear that this is something that left a lasting impression on Delia.
"The Rushes were a lovely family, beautiful in every way, but they all left for America; 'Gach mhac amach orthú'."
Cheques from America told the ones left at home that the emigrants had done alright for themselves after their departure. Most of them never returned and even those who did come home didn't always do so in happy circumstances.
"Their daughter, Maggie, came home from America because she had TB. I remember going into the house coming home from school. Mrs. Rush was out and, as I passed along, she said 'Come in, she won't be long here. She can feel the death in her toes'. She was a lovely, lovely girl. I always got 'Noreen Bawn' sung for her at every dance that ever we were at. I always thought that she was the common element of Noreen Bawn, the girl who came home from America with consumption."
Educated in Barnacogue national school, Delia went on to become a teacher and taught her first class in Tavneena National School on September 11, 1931. She took over at Barnacogue National School, after the death of her own teacher, Miss Finn. She was appointed Assistant in nearby Cloonlyon National School in 1935, and was then appointed Principal in Tavneena NS in 1956, from where she retired in 1975, at the age of 65. In 1976 Delia came out of retirement to teach in Barnacogue NS again for two years at a time when the school came very close to being closed down. Delia was instrumental in keeping the school open and it remains open to this day.
My eldest brother, Michael, was a pupil in the school during Delia's last two years there. He was the first of a generation of nine Lynskey children, including myself, to pass through its doors. Delia herself had left the village of Killaturley during our time growing up there but we did have the pleasure of the company of her brother, Paddy. Paddy Lenehan (1912-2005) was a great storyteller and fiddle player and provided great entertainment to young and old for many years. Together, Paddy and Delia have done great service to the local area in passing on the traditions of our musical past.
Seeing her take the fiddle and bow into her hands, it's obvious that Delia's love of music is as strong today as it was in her youth. Vivid memories reveal the significance of music and the community she grew up in. One of the most abiding images she has of her father, again, involved one of their musical neighbours.
"The youngest of the Rushes was Pete. My father used to sit at our gate, out on the hill, and watch as Pete came to collect his horse from their field beside our house. Every evening he would listen as Pete rode home across the river, sitting on top of the white horse playing on a wooden flute."
It's a scene from a lost time and the image Delia created, of a man astride a white horse playing traditional Irish airs on a wooden flute, will last with me forever.
© John Lynskey, 2014
With thanks to Delia Henry and her son, Cathal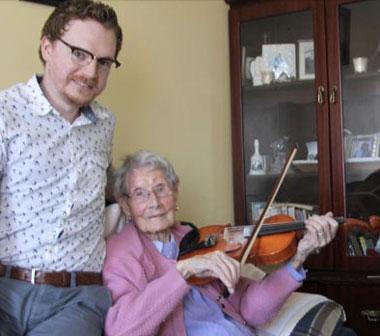 Other Things You Might Like