Kevin Barry's Last Letter, Charlestown in Co. Mayo
"Just a lad of Eighteen Summers" Kevin Barry (1902-1920)
Kevin Barry wrote a letter in his Prison Cell, the night before he was executed, to all his friends, who were in his Medical class in UCD. He used a pencil, with censor's initials, 3pp (two sheets), separated at folds, but complete and legible.
My Uncle, the late Jack Henry, was in his class, and we have had in our family a carbon copy of that letter, since that time.
Dear Boys, This letter is to the two of you + McManus + Lynch + Paddy as I have no more paper. I was sorry I couldn't see McManus, but I suppose it couldn't be managed.
I had quite a crowd of visitors today and a crowd from the college prayed and sang outside the gates but perhaps you were there.
Well boys, we have seen some good times, and I have always considered myself lucky to have such a crowd of pals. It's the only thing which makes it hard to go, the fact of leaving you chaps and other friends behind.
Now I charge you thank everybody you know for me, who has had masses etc said. Everybody has been awfully decent and I can assure you I appreciate it. Also say a few more prayers when I go over and then you can rest.
Now Jack, remember me to Temple and Co + all Grafton St, Vin remember me to Ballyjamesduff and Co + John O'Donnell + Frank O, Paddy remember me to Thor and Jack Lynch to the nights. Give my best wishes to Jerry Condon, Jack Henry, John McKenna, Joe Hardy, Joe Black and to Spike.
Good bye now boys and you have my very best wishes.
Your Pal,
Kevin.
© Cathal Henry 2010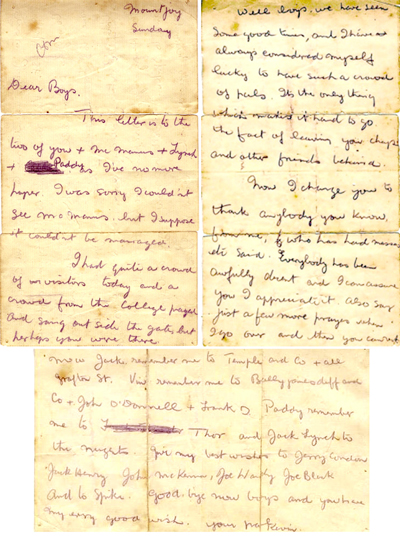 Other Things You Might Like