Charlestown Sarsfields USA Trip 1980
A large group of Charlestown Players, Supporters and Officials left Shannon Airport on the 19th of September 1980 at 5.45pm, on their historic journey to the USA. This was the Club's first such trip and everyone was looking forward to visiting New York, Philadelphia, Boston and Chicago.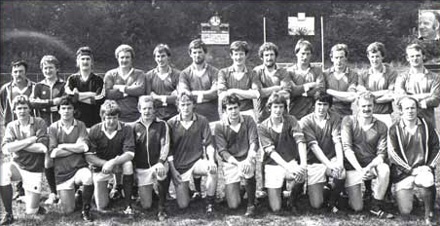 Team Photo taken at Gaelic Park New York
Front Row L To R : Brian Moran, Aidan Henry, Tommy Lundy, Pat Walshe, Tommy Colleran, Philip Finn, Pauric Brett, Tommy Halligan, Peter Walshe, Francie Henry,
Back Row L To R : Hubert Flannery, Paddy Tunney, Eugene Morrisroe, Declan O'Donnell, Tommy Kearney, Tom Brett, Eamon Brett, John Lundy, John Kearney, Dennis Carney, Fintan Brett, Michael Sheridan, Paddy Murray (Inset).
The Mayor of Charlestown in 1980 was Angela Casey and she said: "This is a wonderful opportunity to let our emigrants, our children and grandchildren know their town, about which they should be proud".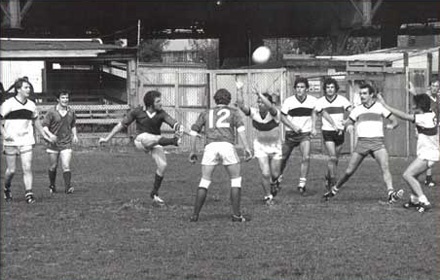 The officers of the Club were: Patron: Canon E Gallagher, President: Brian Moran, Chairman: Tom Gavaghan, Secretary: Gerry Hunt, Treasurers: Bobby O'Connell and Marty Horkan, Coach: Paddy Murray, Team Manager: Hubert Flannery, Senior Captain: Tom Kearney, Senior Selectors: Andrew Walsh, Brian Moran, Paddy Murray, Hubert Flannery and Tom Kearney. Fixtures Secretary: Ernie Salmon.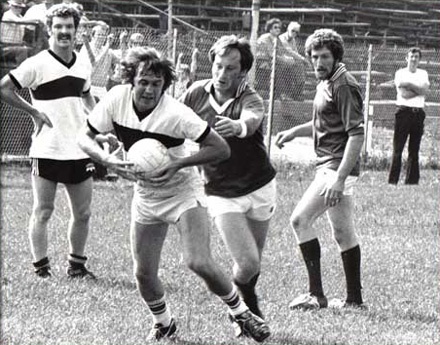 The first port of call was New York. Those well to the fore in the extending of hospitality were: Michael and Martin Griffin who ran the Parkside Tavern and who were originally from Cloonfinish. Padraic, Tom and Madeline Brehony, who hail from Clooncoose, and who are brothers and sister of Mrs Kitty Walsh, and of Mrs Dolores Horkan, RIP, both of Charlestown.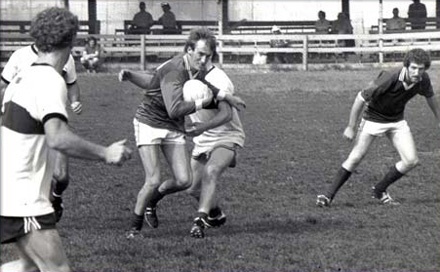 Great assistance was also given by: Tommy Murray, brother of the late Peter Murray, Publican, John Murphy, brother of the late Martin Murphy (Garage Proprietor), Mrs Vera O'Connor and Mrs Bridget Giuca, who were formerly Vera and Bridget Tarpey from Clooncoose, and sisters of Mrs Maureen Morrisroe.
Mrs Nora Nugent, formerly Nora Duffy of Rooskey, her husband Seamus Nugent, is a former Kildare footballer, Eddy O'Hara, who owned several Taverns in New York, and who is a native of Copplecurragh, Bill McDonnell from the Bronx, who brought members of the Tour party to the Twin Towers Trade Centre, now sadly no longer there.
Bill is a nephew of the late Josie Halligan, Sonnagh; Christy Brennan, brother of Dinny and Martin Brennan, Cloonlyon; Gerry Walsh, brother of Eamonn, Paddy, Nicko and Andrew Walsh.
Others who helped out were: John Fitzgerald, Journalist, Pauline and Peter Waldron, Michael Burke, Paddy Duffy, Jim Gilroy, Eddy Webb, Teresa Waldron, Mike Vesey, Eddy Lavan, Mr and Mrs Dominick Frain, Padraic McManus, Mrs Mary Fallon, Paddy Keane, Dinny Molloy, Owen and Mrs McGauran, Attracta Hopkins, Sally Muldoon, and of course Papperins of Woodside, and the Irish Centre, proprietors and staff.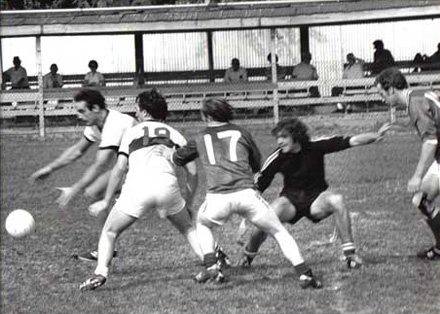 Second Port of Call: Philadelphia
As in New York, the hospitality in Philadelphia was described as "Fantastic". There was a function in the Irish Centre, Germantown, after which the touring party broke up to stay with families in the Philadelphia area.
Prominent in the welcoming party were: Mrs Attracta O'Malley, who was formerly Attracta Moffatt, from Lowpark Charlestown. Paddy Gilroy, brother of Eddy, Kevin, and Berny, Mrs Mary Brady, Mrs Bridie Cawley, Mrs Kathleen Ryan, Mrs Maureen Howley, Gerry Lundy, John Mulligan, Brendan Doherty, The Doohan sisters - Mary, Rosaleen, Teresa & Carmel and their brother Kevin, Sean Ruane and his wife Mary, Una Devanney, Attracta Vesey, Rosemary Parsons, The O'Grady sisters, formerly from Kilgarriff, Mrs Kate Brennan, sister of Eddy O'Donnell, Mrs Eileen O'Brien, Eddy Cahill, Mike Henry, The Morley girls formerly from Cortoon, Martin and Sean Feehily, Maureen Gibbons, Joe Cawley, Mr and Mrs Frank Harrington.
They were a wonderful group of people and made our stay most enjoyable.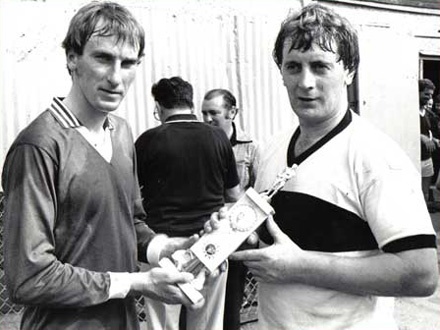 Third Port of Call: Chicago
The hospitality trail continued unabated in Chicago. The following were to the fore in the welcoming party: Martin Caffrey, J Dinova, John Hopkins, Peg McGowan, Mike McNicholas, Mike Owens, John O'Reilly, Frank and Marty Walsh.
Fourth Port of Call: Boston
Boston was also a 'City of the welcomes' and in the welcoming party here were: Tom and Sean Stenson, John Cafferty, Bill McGowan, Tommy and Kieran Mahon, Anthony, John and Brendan Morrisroe. Everywhere they went, they were great Ambassadors for Charlestown. They also chanted our local Song, so eloquently spoken by the late John Healy, who was very proud of his local Town, as follows:
"Up the Sarsfields, Up the Sarsfields, Up the Sarsfields every time, we will meet them, We will beat them, Up the Sarsfields every time."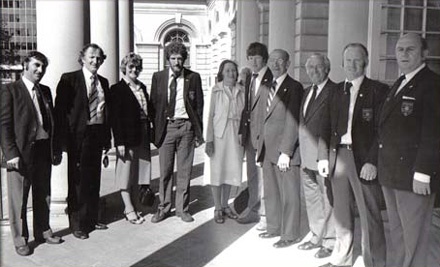 Visit to City Hall, NY
L To R : Marty Horkan, John Gallagher, Virginia Gallagher, John Lundy, Evelyn Healy, Tommy Lundy, City Hall Offical, City Hall Offical, Paddy Murray, John Healy.
The following is a list of some of the players and supporters who went on the trip: The Kearney brothers: Tom, John and Dennis, The Henry brothers: Aidan and Francie, Brian Moran, Pat Walsh, The Lundy brothers, John and Tom, Paddy and Simeon Tunney, Declan O'Donnell, Miko Sheridan, Philip Finn, Tom Colleran, Tommy Halligan, Eugene Morrisroe, The Brett brothers: Eamonn, Tom, Fintan and Padraic, and Peter Walsh. Marty Horkan, Andrew Walsh, Tommy Mulligan, Ernie Salmon, Cathal Henry, Paddy Murray, Hubert Flannery, Bobby O'Connell, Gerry Hunt and Tommy Finn.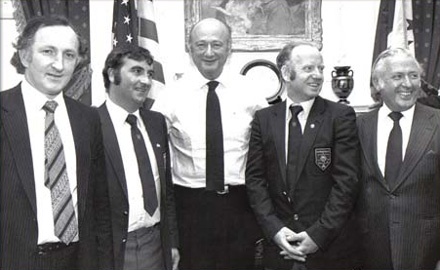 Visit to City Hall, NY
L To R: John Gallagher, Marty Horkan, Mayor Koch, Paddy Murray, City Hall Offical.
© Cathal Henry. 2003.
Other Things You Might Like