Tom Durkin MCC, Charlestown in Co. Mayo
Many young men of Twenty said good-bye, well, yes they did, but not Tom, he stayed and fought the good fight all his life. Tom Durkin's life is similar to many young men of his generation, who stayed at home and started life as young shop-boys in their local town.
Early Years
He was born in Ballincurry, Curry, Co. Sligo in 1903. He was one of twelve children born to Jeremiah and Anne Durkin. Anne's maiden name was Coffey, and she hailed from Powelsboro, Co. Sligo. Tom started his working life as a shop-boy in McDonnell's Hardware Store, Main St. Charlestown in 1917, aged fourteen years. His father had to pay Michael McDonnell £50.00 per year for the privilege. He learned all there was to learn about the business and while there worked with Martin Dunne, who later on, also opened his own shop in Barrack St. Martin Dunne was the father of Patsy Dunne MCC, and Mary Dunne.
East Mayo Brigade
His political aspirations then took over, and in 1921 he joined the East Mayo Brigade of the IRA. He stayed with the IRA until 1923, and then returned to work in McDonnell's. An historic photograph of the East Mayo Brigade accompanies this biography. It was taken outside Swinford Church in 1958, after Mass for deceased members. Tom Durkin is 5th from left in the front row.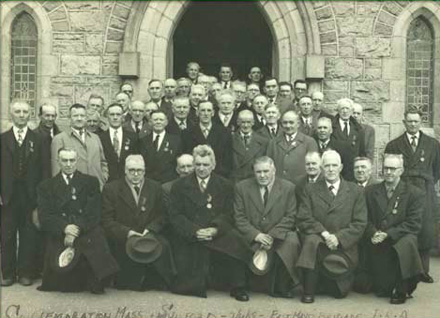 Shortly afterwards he left McDonnell's to work for Pat Seary, Hardware Store, Tubbercurry, Co Sligo. Michael McDonnell thought a lot of Tom, and wrote him a letter, requesting his return to the Charlestown Store as foreman. Tom duly returned as foreman and performed his duties with Michael McDonnell until 1929. It was then that he took one of the most daring decisions of his life.
The Railway Bar
He rented the premises in Main St, then known as the Railway Bar, from Luke O'Donnell. The premises had previously been rented by Tom Dooney, a well known Merchant at that time. There was a lot of business in that locality, because of the close proximity of the Railway Station. There were three trains per day, to and from Sligo. He had to start work at 7am, to be ready to serve the passengers catching the train to Cobh in Cork, and then they boarded a ship for their long journey to New York, some never to return. Sunday night was also very busy, because of the dances in Walshe's Central Ballroom, just beside him. His brother Charles helped him with the work on many an occasion.
Then in 1944, he made another gigantic step in his business life.
Before 1944 dawned, many important events happened in Tom's life. He worked long hours in the Railway Bar and made many friends during that time.
One such event occurred in 1926. In that year, a lovely young girl, from Craughwell, Co. Galway, took up a position as Bookeeper in the long established business of JW Mulligan, Bar, Grocery and Hardware Merchants, the Square Charlestown. She was Bridget Spellman, and what an eventful time it was to become for her. Naturally, it did not take Tom long to spot her and as the saying goes, they started doing a line. That line ended in 1932, when they got married.
Their early life was full of happiness, and were blessed with the birth of six children, four girls and two boys:
Maura, now retired in Pine Grove, Charlestown, and having given many loyal years to the family business in the Square
Pauline Gorman, and is now a retired District nurse in Castleblaney, Co. Monaghan
Bernadette Carr, now a retired Doctor, in Galway Sheila O'Brien, a retired Hotel Manageress, and living in Castletroy, Co. Limerick
Jerry, also a retired businessman, having managed the operation in the Square, until it was sold
Last but not least, Joe, now a successful Dentist in Ballina.
Tom and Bridget reared their children well and encouraged them along the way in their chosen careers.
Mulligans
It was a blessing that Bridget took up her position in J.W. Mulligans, in 1926. Her experience and knowledge of that business, probably encouraged Tom to purchase Mulligan's in 1944. The purchase price was £5000.00. What a brave decision it was for both of them. To save that kind of money in those days was nothing short of heroic, and they deserved their courage and enterprise. The premises was purchased from Dr Francis Mulligan, then a Doctor in Mullingar. The two businesses were run concurrently until 1952, when they left the Railway bar and moved, "lock, stock and barrel", to the Square. Many of the customers that they served in Main St. moved with them to the Square. The Sligo and Mayo people stayed loyal to Tom during his long career in Charlestown.
Tom was not finished yet and his Political career was about to commence. Before I move on to Tom's Political career, I would like to list some of the loyal employees, that worked for him over the years.
They are: Johnny Doherty, Church St, Charlestown, Anthony Corley, Corthoon, Mike Cassidy, Hagfield, Liam Brennan, Glann, Seamus Mulligan, Hagfield, Michael Towey, Egool, Kilmovee, Annie and Winnie Kilroy, Church St. Bridie Mullins and Mary Murphy, from near Tuam in Co. Galway and Bridie Sweeney, Sonnagh, Charlestown. Sadly, some are no longer with us, and are fondly remembered by the Durkin family.
The first Fianna Fail cumann to be established in Charlestown, was set up by Tom, and the following people, for the year 1926-1927. They were: PJ Honan, Jack Peyton, Tiny Duffy, Mike Dillon, Pake Finn and Pake Kelly. The following people listed, attended the Mass held in Swinford Church on the 7th of April 1958, for the present and deceased members of the East Mayo Brigade, Old IRA.
First Battalion
Thomas Durkin, centre of picture, 5th. from left. P.J.Henry, Swinford. William Foley, Barcull, Kilkelly. Patrick Finn, Carn, Charlestown. Seamus Groarke, Swinford. Sean Robinson, Rooskey, Ballymote. James Gallagher, Brusna, Ballaghaderreen. Michael McDermott, Rooskey. Dan Caulfield, Carracastle. Sean Walsh, Cloragh, Rathfarnham, Dublin. Henry McNicholas, Carranteane, Kiltimagh. Patrick Hyland, Trenagleeragh, Kiltimagh. Patrick Dunleavy, No.6 Goldsmith St. Dublin, and P.J. Honan, Charlestown.
Second Battalion
John Higgins, Sinolane, Ballaghaderreen. Michael Mullins, Clooncara, Ballaghaderreen. James Carn, Aughaliska, Ballaghaderreen. Thomas Price, Killasser. Thomas McNeela, Cloonlumney. Thomas Dunleavy, Meelick, Swinford. John Carroll, Ballinmore, John Charlton, Kiltimagh. Martin Gordon, Sweetwell, Swinford, and Peter Gallagher, Cloonlara, Swinford.
Third Battalion
Thomas Kenny, Kilkelly. Thomas O'Brien, Bushfield, Charlestown. Andy Muldowney,Tullinacurra, Swinford. John Clarke, Bohola. Michael Kilgallon, Culmore, Swinford. Dominick O'Donnell, Ballaghaderreen. Michael Lydon, Kilkelly. Michael McGeever, Meelick, Swinford. Joseph Kelly, Ballaghaderreen. Patrick Snee, Kilkelly. George Orr, Swinford, and John Mulrennan, Lisacul, Ballaghaderreen.
Fourth Battalion
Patrick Bolingbroke, Meelick, Swinford. John Finn, Cloontia, Doocastle. Thomas Sweeney, Barnacogue. Peter O'Brien, Ballydrum, Swinford, Jack Regan, Tullinacurra, Swinford. Pat Devine, Midfield, Swinford. Patrick McGowan, Swinford. John Gallagher, Johnsfort, Swinford. John Conroy, Craggagh, Balla and Frank Colgan, Lucan, Dublin.
Politics
Tom Durkin was nominated by Fianna Fail in 1955, to contest the Local Elections in the Swinford electoral area. He shared the Fianna Fail ticket with MJ Cassidy and W Doherty. In the Swinford electoral area there were five seats up for grabs. The electorate was 12689. The total poll was 8004, spoiled votes 100, total valid poll 7895, Quota: 1316.
The candidates and their first count votes were: MJ Cassidy, FF. outgoing, 1339. W Doherty, FF. 423. Tom Durkin, FF. 941. Capt Thomas Egan, FG. 259. Thomas Egan, FG. 391. Eamonn Regan, FG. 427. F Turnbull, FG. 215. P Walsh, FG. 375. Douglas Kelly, Clann na Talamh 964. Tommy O'Hara, Clann na Talamh outgoing, 1289. Tommy Tarpey, outgoing, Clann na Talamh 656. Domnick Cafferky, Clann na Talamh outgoing. 616.
In his first attempt Tom was elected, along with Dominick Cafferky, Kilkelly, Martin J Cassidy, Swinford, Douglas Kelly, Swinford and Tommy O'Hara.
Capt Thomas Egan was from Lavey, Charlestown, and his son Sean, died recently in Dublin. Eamonn Regan was from Kilmovee, and was married to Olive Gallagher, Charlestown. Tommy Tarpey, was from Clooncoose, near Charlestown, and was an outgoing Councillor. Looking back to that election now, it seems that Capt Egan and Tommy spoiled one another, but that is all history now, and Tom went on to represent the Charlestown area until 1974, when he retired.
In that election, six outgoing Councillors lost their seats. They were: Tommy Tarpey and T Scott, Clann na Talamh J. Clarke, Ind. M Cosgrave, FG. P Lawrence, FF. and M Carney, Labour. The new Councillors were: J Gilvarry, Killala. Tom Durkin, Charlestown. T Bourke, Ballina. P Quinn,Castlebar, and MJ O'Toole, Westport, all Fianna Fail. Henry Kenny, TD. Castlebar, J McManamon, Westport, Miko Browne, Crossmolina and P Curran, Claremorris, all Fine Gael. Frank Devanney, Lahardane, Douglas Kelly, Swinford and P. McGrath, Castlebar, all Clann na Talmhan. Tom Durkin was re-elected again in 1960 and 1967. The Chairman of the County Council in 1967 was Jack Garrett and Tom was elected Vice-chairman. He did not see re-election in 1974, and handed over the mantle to Patsy Dunne, who won the seat again for Fianna Fail.
During his political years, Tom had many loyal customers, many of whom attended the meetings in his Bar, which was fondly called: Tom Jerry's, or the Ideal Bar.
Mayo County Council Members and Officials pictured at the Courthouse - 1956
Bottom Row L - R: Tom Durkin, James Tierney (Staff), Peadar Kilroy, John O'Donnell (Co. Secretary), Dominick T. Cafferkey, Charles Gilmartin, Liam McLoughlin (County Manager) Sean T. Ruane. T.P. Flanagan (County Engineer)
2nd Row Bernard Commons, Joe McManamon, Charlie O'Conner (Co. Accountant) John Gilligan, Dalgon Lyons, Gertie Devereux (Stenographer), Dr. Joyce (Co. M.O.H.) Paddy Curran, Martin J. Cassidy, Martin McGrath, Jack Garrett, George Egan.
3rd Row Unknown, M.J. O'Toole, Bernard Joyce, Michael Kilroy, Joe Sweeney, Tom Bourke, Tony Chambers, Henry Kenny, Tommy O'Hara, Douglas Kelly, Jim Deere, (Caretaker), Frank Devaney, Joe Lenihan, Miachael Fadden, Peter McGrath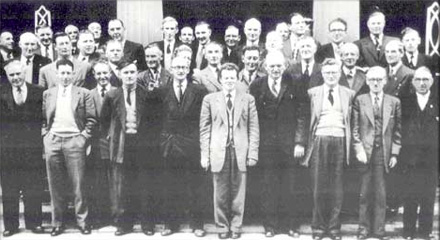 Customers
The following is a list of some of them: Jim Harrington (Luke) Glann, Tommy Durkin, Glann, Michael Tiernan, Urlar, Kilkelly, Frank Keane, Urlar, Jimmy and Michael O'Connor, Urlar, Mrs Mary Phillips, Urlar, Tom and Stephen Sheridan, Kilmovee, Con O'Donnell, Egool, Tommy Connor, Craggagh, Pat Gannon, Carracastle, Dan Caulfield, Carracastle, Martin Duffy, Botuney, Padraic Callaghan, Botuney, Jimmy Joe Phillips, Botuney, Michael and Seamus McDermott, Rooskey, John Robinson, Rooskey, Tommy "Pete" Gallagher, Doocastle, Pat Kennedy, Doocastle, Paddy Joe Coen, Doocastle, Jack Cawley,Doocastle, James O'Hara, Doocastle, Des Corcoran, Cloontia, Tom Finn, Henry Towey, Martin and Gerry Keane, all Cloontia. Liam Brennan, Mike and John Connor, Michael Battle, all from Glann. Mike Grady, Gerry Campbell, Eamonn Campbell, John and Cathleen Harrington, Tommy and Betty Cox, all from Lurga. Mike and Elizabeth Harrington, Tavneena. PJ Honan, George Frain, Jack Peyton, Tiny Duffy, Mike Dillon, Tom and Peter Tunney, Jack Maye, Eamonn O'Hara, John McIntyre, Vincent Doherty, Mattie Honan, Martin Murphy, Tommy Dunleavy, Jimmy McIntyre, Tommy Jordan, Andrew and Eamonn Walsh, John Currid, Jim Keigher, Vera Craig, John and Ann Lenihan, Wilfrid Conroy, Patsy Dunne, Pat Caulfield, Sean Honan, Kitty Walsh, Jerry and Mary Durkin, Patrick Finn, and Pake Kelly, Carn. Tom O'Brien, Bushfield, John and Paddy Durkin, Lurga, Frank Kelly, Carn, Tom Durcan Sonnagh, Jim snr, Jim jnr, and Mick Burns, Madogue. Jack Duffy, Madogue, and Tommy Gallagher, Airport Rd.
Electorate
I could not complete this Biography, without mentioning the rapid decline in the population of the Swinford area, during this period. As already stated, the Electorate in 1955 was: 12689 voters on the Register. By 1967, it had dropped to 9577, a drop of a staggering 3112 voters. It must have been very tough for the businesses in the area then. Thankfully it is a lot better now.
Family
The family business, which consisted mostly of: heavy and light hardware, including all building materials, Timber, Iron, Cement, Furniture, Bedding, Wallpaper, and Fertilizers. The Bar and Grocery also thrived, anything was sold that could be sold, from a needle to an anchor. Deliveries were also very much part of the business, and they were made to all of Charlestown, and Swinford areas, as well as Curry, Tubercurry, Aclare, Tourlestrane, Banada and Kilmovee.
Time moved on, Tom passed away in June 1982, and his loving wife Bridget died in 1993. Jerry's loving wife Mary, nee Carney, died in 2000. Jerry ceased trading in May 1998, and sold the property. He is now happily retired and living in Pine Grove.
Tom Durkin was very much a man of his generation. His quick intelligence, gave him a definite grasp of what he should achieve in life. He did just that, from the first day he left Ballincurry, to his last day in the Square, of his beloved Charlestown. He understood his role in commerce, family life and politics. He walked into the life he had chosen with dignity, and he left that life, never having spoiled his achievements.
I wish to thank Jerry, for his very valuable help.
© Cathal Henry 2008
Other Things You Might Like