William F Bill Gallagher MCC, Charlestown in Co. Mayo
William "Bill" Gallagher was born in Main St, Charlestown, County Mayo, in December 1890, the youngest son of Thomas and Mary Gallagher.
The other members of his family were : Anna Marie born in 1888, John Patrick born in 1884, Martin born in 1882, Catherine born in 1879, Thomas born in 1875, Patrick T born in 1873 and And Marie born in 1871.
Bill was a very active man in his youth, and took himself off to the USA at an early age. He served with the American Expeditionary Forces in France, 1917 to 1918. On his return home after his American adventures, he got involved in the local political scene and he was also a Group Leader of the LDF, "Local Defence Force" during the Emergency. He was a member of the Charlestown Parish Council, the Old Age Pension Committee, and secretary of the Town Improvements Committee.
Bill was elected to Mayo County Council in 1934, and served his full term for seven years. He was a keen debater and his work on behalf of the Charlestown people was well known and appreciated. He was a proud member of the Fine Gael Party.
In Charlestown Bill was a Shopkeeper in Main St by profession and when he ran for the Council Elections in 1934 he was proposed by Rev Charles Gildea, and seconded by James Morrisroe TD. He attained 727 votes in that election and was joined on Mayo County Council by local men, William Mellett, Swinford, and Pat O'Hara, Swinford. Local man John Murphy, FF, was also a candidate.
Bill was also a candidate for FG in two Dail Elections for the old South Mayo Constituency. In 1938 he attained 4,779 votes but was not elected and he ran again in 1943 and failed again. He was up against many famous candidates of other parties such as: Michael Cleary TD, James Fitzgerald-Kenney TD, Joseph Blowick TD, Michael Moran TD, and Dominick Cafferky TD, so, he was in good company and enjoyed the fight.
Bill's older brother, Thomas, emigrated to Cincinnati, Ohio, USA, in the early 1900's. Thomas had a son also named William "Bill" a nephew of Bill in Charlestown. He was a friend of the famous Movie Star,Tyrone Power, they were school friends. Marie Gallagher, older sister of Bill, was given a 'Loving' cup by Tyrone Power. William "Bill" of Cincinnati, went to Holywood and worked at Rank's studios, but he was not an actor. He was also involved in Trade Unions while there.
In 1963, the Gallagher family had a visitor from the USA, one Thomas A Graham, whose mother was the former Anna Marie Gallagher, sister of Bill, Charlestown, and Mrs Kate Mahon also of Charlestown. Thomas, became a 2nd Lieutenant in the US Army, at the University of Florida. After that time he was promoted to the rank of Colonel, and then became a Professor of Military Science at the University.
Colonel Graham's proudest moment came when he had the unique honour of administering the oath of an Officer in the American Army to his son, Thomas A Graham Junior. It was also the very same location where he had been commissioned himself. It was a very proud day for father and son.
In September 1949, some interesting offences were committed in Charlestown. Three Publicans were before the Court - Patrick J McGowan of Barrack St, Thomas B Hopkins also of Barrack St and Bill Gallagher of Main St.
There were no offences on record before this date against Mr Gallagher. However, this was slightly tarnished by his daughter Olive, when she served two men, whom she brought home from the Carnival at 12.35 am, on the night of the 30th of May.
Mr O'Connor, Solicitor, representing Miss Gallagher, who was an official of the Carnival Committee, said the that Miss Gallagher, when she was leaving her tea stall, on that night, was escorted home by these two men, to whom she served drinks, as a thank you, after she arrived home. It was a very trivial offence, as the premises were well conducted, in fact this was the first occasion on which a summons had been issued against the defendant and that was a unique record. The Justice imposed a fine of 10/- on the establishment and 2/6 on each of the two men found on the premises. The Garda in question was the late and well respected Guard Conroy. This event so long ago was the talk of the town for many weeks afterwards.
Bill Gallagher and his wife, who was Josephine Murray from Cloonee, Strokestown, County Roscommon, raised two lovely daughters, Olive and Anne. Bill died on 14th March 1972, Olive died the same year on the 9th November, and I am sure she often thought of the comical events of that night after the Carnival.
In conclusion I would like to say of Bill Gallagher that he was a true leader who had the confidence to stand alone, the courage to make tough decisions, and the compassion to listen to the needs of others. He did not set out to be a leader, but became one by the equality of his actions, and the integrity of his intent. He was one such leader and a credit to the Town of Charlestown.
Cathal Henry 2014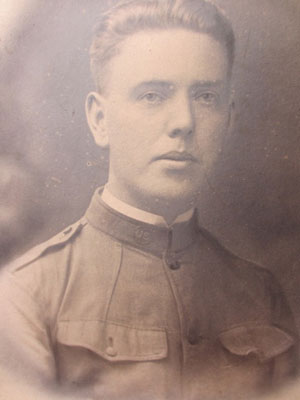 Other Things You Might Like