Moyne Abbey, Killala in Co. Mayo

Moyne Abbey, close to Crosspatrick, lies on the west side of Killala Bay, near Ballina. It is one of most impressive ecclesiastical ruins in Mayo and a National Monument. It was a friary founded in 1460 by McWilliam Bourke, a member of the Barret family, for Franciscans of the Strict Obedience and was one of the chief houses of study for young Irish Franciscans. The friary was consecrated in 1462.
The Abbey was placed in an evocative and delightful retreat. The Gazetteer of Ireland, over a hundred years ago, wrote: "From the battlements of the tower the eye is conveyed over the bay of Killala, the Sligo shores of that bay, the east side of the lower part of the basin of the Moy, the church and castle of Enniscrone and the whole expanse of undulated country away to the sky-line of the Ox Mountains.
The Abbey, though long unroofed, and now crumbling rapidly to ruins, is still nearly entire in its parts, and presents at once a picturesque object to the painter and various features of artistic interest to the architect."
The Friary is a late Irish Gothic foundation and has impressive ruins including a square tower of six stories which were added after the original building, a cruciform church, a chapel and cloisters.
There are also a renaissance door at the west, which appears to be a much later addition and a fine east window. On the plaster of the west nave wall may be seen 16th century graffiti. There is a vaulted chapter room and a part-vaulted sacristy and the chapter house; the kitchen and the refectory on the north side are built over a stream.
It was burned by Sir Richard Bingham, an English governor of Connacht in 1590, like its neighbour, Rosserk Abbey. The Cromwellian soldiers murdered the friars and profaned its altars.
Some friars continued in residence until 17th century : the last one died around 1800.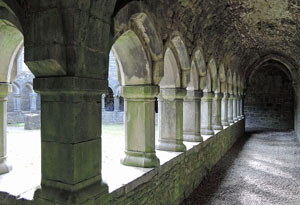 Other Things You Might Like