Rosserk Abbey Killala, in Co. Mayo
Rosserk Abbey lies some 7 km north of Ballina, on the banks of the Moy, near Killala, in a very pleasing scenery. It was built by the Joyce family in 1460 for the Friars of the Franciscan Third Order Regular.
In Ireland, Franciscan Third Order Regular (TOR) was made up of both clerics and non-clerical members. Elsewhere, females could join in such a community, but here in the West of Ireland, the community was wholly male. The speciality of the religious was teaching. Each monastery had its own "free school" for boys and concentrated on the cultural and local interests of Gaelic Ireland. Thus, history, songs, sagas, and stories of heroes was preserved.
This Franciscan Abbey is the finest in the country and is in a good state of preservation. The church is built in the late Irish Gothic Style and the ruins include a square bell-tower suspended over the chancel arch, a single-aisle nave and south transept cloister with two chapels.
Among the curiosities of the friary are the double piscine with a Round Tower carved on one of its pillars, two angels and the instruments of the Passion, a fine arched doorway and east window. The double piscine was used as special basin for washing items in the church service.
The conventual buildings are well-preserved and may have served as classrooms, storage or workshops. From the cloisters, stairs lead up to the dormitories, refectory and kitchen, where two fireplaces still remain back-to-back. It is a most evocative and serene site.
In 1590 the Abbey was burned by Sir Richard Bingham, Elizabeth I of England's governor of Connacht. In the mid 17th century the MacFirbises lived here and from their annals we know that Rosserk derived its name from Searc, a miracle-working daughter of Cairbre, son of Amhalgaidh, who blessed the 'baile' and the 'ros' which are at the mouth of the river Moy.
The annals also tell us that on this site there was a previous convent and a church mentioned in a list dated 1198.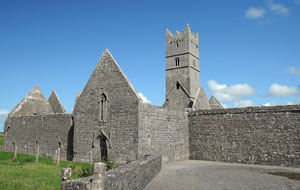 Other Things You Might Like