Gardens at National Museum of Country Life.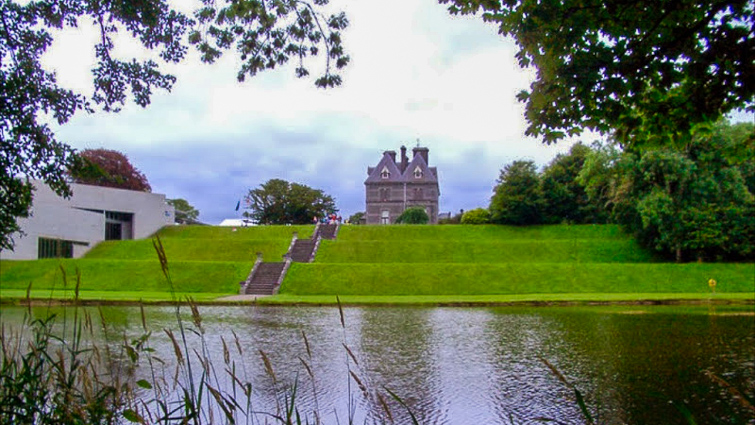 The National Museum of Country Life boasts one of the Green Flag award-winning gardens in Ireland.
It is 37 acres of landscaped garden, which includes many rare trees, shrubs and fine broad-leaved mature trees.
Today the OPW and Mayo County Council maintain the gardens and the grounds.
There are interesting features to see and visit, no visit to the West would be complete without a visit to the Museum and Park.
In 1863 Charles Lionel Fitzgerald commissioned Turlough Park House and improved the gardens and grounds adding new buildings and some landscape features including a glasshouse, a vinery, a human-made lake with three picnic islands, and a boathouse.
The most attractive feature is the Victorian Conservatory. Built between 1874 and 1875 it was rebuilt in 2000 after a destructive storm pulled down the structure in the 1930s. It is the central focal point for the gardens and home of a rich variety of plants.
The Vinery is coeval with the house and was built by Richard Turner Engineers next to the stables. A cast iron boiler heated the structure so that grapes and other fruits could be grown.
Since the 18th century, an ancient natural formation made by glacial erosion, also known as corrie, was planted with a massive number of beech trees. It forms the Sunken Garden nowadays.
The four outstanding Terraces were built with the house in 1865 using the soil dug out to create the human-made lake in front of the house itself. They descend to the lake, and three flights of limestone steps lead to the shore lake.
The human-made lake and three islands, known as 'picnic islands', were also excavated in 1865. The water of the nearby Castlebar River was dammed up to the new lake. The site was originally a temporary winter lake (turlough in Irish) and used to attract and hunt wild fowls afterwards. This area of the gardens is stunning.
From the gardens, on the far side, the 23 metres high Turlough Round Tower stands on a hillside. It was built sometime along the 9th century and is abutted by an 18th-century church and a graveyard.
Inside the Entrance Bridge to Turlough Park House the ruins of the original Fitzgerald residence can be seen. The building was erected in 1722 by Thomas Fitzgerald. The family abandoned their original Georgian house either due to its low-lying position or because of its association with their ancestor George Robert Fitzgerald (the Fighting Fitzgerald).
Other Things You Might Like