Rocky Shores and Sea Cliffs in Co. Mayo
Rocky shores are formed by solid rock ( bedrock ) or loose rock ( boulders and cobbles).
On Mayo's west coast there are some of Ireland's highest rocky sea cliffs.
Dramatic sea cliffs can be found at Achill Head (650m high) and at Erris Head and Clare Island Cliffs.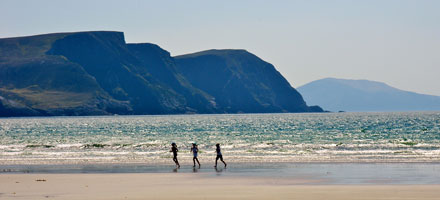 Here, sea birds nest such as: fulmar, kittiwake, puffins, peregrine falcons,turnstones and oystercatchers.
The northern cliffs on Clare Island are very rich in flora: moss campion, purple saxifrage, Irish saxifrage and St.Patrick's cabbage can be found.
Other Things You Might Like