Outdoor Activities in Co. Mayo

County Mayo can offer visitors and holidaymakers a plethora of outdoor activities. Mayo is increasingly becoming a centre for practising sports and relaxing, switching off and unwinding. Walking, cycling, golfing, horse riding, surfing, scuba diving, sailing, fishing and angling are very popular sports in Mayo. The wild and superb Mayo landscape gives visitors a unique experience of an "active" holiday in beautiful unspoiled countryside.
Horse Riding
Have you ever dreamt of galloping along a deserted beach with the sea breeze on your face or trekking along by majestic mountains with the sounds of the water rippling in a nearby stream?
Mayo is exactly the place to realize this dream! In County Mayo Horse riding holidays and trail riding trips can accommodate riders of all levels. This outdoor activity is best practised in deep tune with the wild nature of our county where you can discover many spectacular landscapes and seascapes, green fields and hills.
There are a wide variety of equitation packages for your Mayo horse-riding holiday with a great selection of horses and ponies for everybody from the beginner to the experienced rider.
Horse Riding and Equitation Centres in Mayo offer horse riding lessons and instruction, trail rides, pony trekking & beach rides and many of them also conduct pony camps during school holidays.
Golf
Golf is one of the most played sports in Ireland, nowadays considered as the Mecca of golf in Europe.
In County Mayo there are many parkland courses designed by famous golfers where it is possible to golf in challenging courses located in a superb green countryside and to relax in charming and often restored old clubhouses.
Walking
Walking is a wonderful experience in County Mayo. Because of the large variety of its landscape, our county offers multiple possibilities as regards excursions.
Indeed, one can pass from low-lying lake-lands in east Mayo, to a mountainous area on the west coast. The experienced hiker will be delighted, because each excursion will be a new discovery.
The occasional walker will not be disappointed either, because Mayo has plenty of places where hikers can walk by themselves.
Fishing and Angling

County Mayo with its long coastline, lakes and rivers is an unmissable destination for all fishermen and offers a large solitary waterworld in stunning surrounds where fishing and angling become unforgettable experiences.
River Moy, Lough Corrib, Lough Mask, Lough Conn and Lough Carra are the best angling destinations for the visiting fishermen in Mayo.
Cycling
Cycling is a well developed activity in County Mayo and is a very interesting way to discover unforgettable places. Mayo has an impressive road network and there are many secondary roads that are a joy to cyclists of all abilities.
The landscapes offered are varied and enriching and the historical and archaeological places that can be visited are very interesting. Discovering County Mayo on a bike is a great way to enjoy its beautiful landscapes and many breathtaking views.
Travel along in comfort at your own pace, taking time to enjoy the valleys, plains, mountains and steep cliffs dotted along the Mayo skyline.
Watersports
The rugged coastline of Mayo as it meets the North Atlantic Ocean creates a real paradise for surfing, windsurfing and sailing. Watersports have made the transition from a once in a lifetime experience to a way of life for many Irish people and Mayo and the west of Ireland in particular has embraced the culture with a growing number of watersport's schools and clubs being established. Beginners and seasoned enthusiasts alike can hit the beach and enjoy the waves and stunning scenery that the shoreline of Mayo has to offer while the wild weather often associated with the coast of Ireland is perfect for these high adrenaline sports.
For outdoor swimming at its best try one of Mayo's many beaches. The County is the proud holder of no less than twelve Blue Flag awards. The beaches are recognised as being among the most outstanding in Europe and they offer excellent bathing areas and scenic seascape paths where strolling especially during the summer months.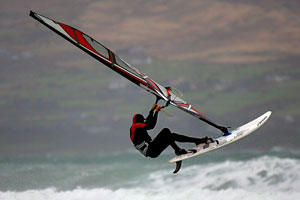 Other Things You Might Like