Bohola in Co. Mayo

Bohola is a village located on the N5 at the intersection of the Kiltimagh/Ballina road with the Swinford/Castlebar road. At the old crossroads of the village there is a Post Office, a Catholic Church, and 2 pubs.
Famous Bohola Natives
Bohola was the birthplace of the great athlete, Martin Sheridan (1881-1918) and there is a memorial in his honour on the village green. Martin won 9 Olympic medals (5 gold, 3 silver and 1 bronze) for his adopted country, the USA, in discus-throwing, high and long jumps, shot-putt and pole-vaulting at St. Louis (1904), Athens (1906) and London (1908). (These figures include 2 gold and 3 silver medals won in Athens which was not regarded as an "official" Olympics.)
The site for the Cheshire Home at Lismirrane, Bohola, was donated by the well-known O'Dywer family, one of whom, William (1890-1964), became Mayor of New York City (1946-50) and later President Truman's Ambassador to Mexico, a rare distinction for an Irish emigrant.
Paul O'Dwyer (b. Bohola, 1907 - d. Goshen, New York 1998), American lawyer, liberal Democratic politician, and champion of the underdog with an international reputation for civil liberties, served as President of New York City Council.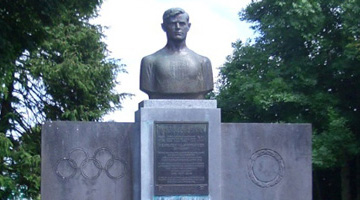 Other Things You Might Like