Visitors' Guide of Murrisk, Co. Mayo
National Famine Monument
This stark and striking monument in Murrisk is an appropriate commemoration of the millions who perished in the Great Famine over one hundered and fifty years ago. Crafted in bronze by John Behan, the dramatic sculpture depicts a "Coffin Ship" with skeleton bodies in the rigging.
"Coffin Ship" was the term used to describe the ships which left our shores horrendously overcrowded with emigrants fleeing the famine. The dire and unhygienic conditions on board ensured that many did not reach their destination.
The National Famine Monument was unveiled in 1997 by President Mary Robinson. Located directly opposite the carpark at the foot of Croagh Patrick, it commands panoramic views over the drumlin landscape of Clew Bay.
Murrisk Abbey
Read more about Murrisk Abbey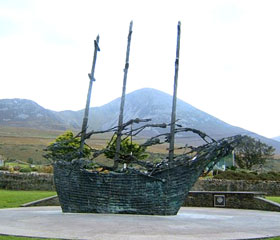 Other Things You Might Like