Westport The Tear and The Smile, a Book by J. McNally
"Westport The Tear and The Smile" is a book of nostalgia, laughter and tears, that recalls a time when Westport was young but growing! A Westport that died when material things mattered over friend and neighbour.
You will meet the characters, hear their "Cant" and "Rowlin" and feel their zest for life and laughter. God was their best friend and they were 'wide' to the ways of the Lord! It's an era that has passed and may never come again but it has left its memories, its "Tears and Its Smiles".
They were tough times that shaped the manly men who rode life's punch and kept on swinging to life's end, with an unbounded faith in "Himself".
You will enjoy this trip through time that tells of tribal life in West Mayo when children ran bare-footed and free - and God was their playmate.
"The children are scattered -"the old folk are gone"- and things will never be the same again!
Contents:
Introduction by Jarlath Duffy, And That's How It All Started, Preface, Life's 'First' Impression, The Famine Years and Tears, Westport in the 1830's and 40's, Cathair na Mart, The Mall, Castlebar Street, The Fairgreen, Distillery Road, Altamont Street, Mill Street, High Street, Monument Street, Barrack Hill, Prospect Avenue, John's Row, Peter Street, Tubber Hill, Church Lane & Quay Road, The Octagon, Shop Street, Bridge Street, James Street, Newport Road and St Mary's Crescent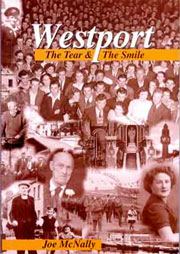 Other Things You Might Like