Family Fun in Co. Mayo

County Mayo offers a plethora of stimulating and educational things to do for children and their families on holiday. Many beaches have the EU Blue Flag status, where children can play on clean, safe and sandy beaches, swim in the clear and crystal waters of the Atlantic Ocean or learn about beaches' biodiversity, flora and fauna from the numerous information panels.
Many outdoor activities can be chosen such as horse riding, water sports, cycling and walking, the tuition is easily accessible everywhere.
Sometimes children are attracted to a little adventure and Mayo, with its long coastline and lake shores, offers daily sailings on lakes and sea.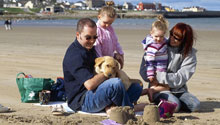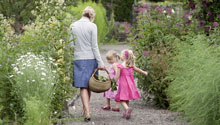 Children always enjoy a visit to pet farms where they can get in touch with the rural life and Mayo is the right place to satisfy their curiosity.
Many heritage centres, situated in unspoilt countryside such as  Hennigan's Heritage Centre, Clogher Heritage Complex and the famous National Museum of Ireland Country Life can be interesting places to visit.
Clogher Heritage Complex also offers great walks through the countryside where it is possible discover the unique peatland's habitat.
Well equipped playgrounds, parks and gardens are scattered all around Mayo, where children can burn off their excess energy, have a stroll in the woods, experience the sweet scent of flowers or spot several species of wild birds and animals.
Festivals are run throughout most of the year here and they have many aspects to interest children; the Roola Boola Children's Arts Festival in Castlebar especially tailored for them takes place annually over the bank holiday weekend at the end of October.
It may come as a surprise but Mayo offers more than you think to your children!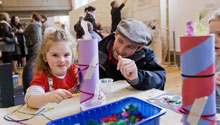 Other Things You Might Like