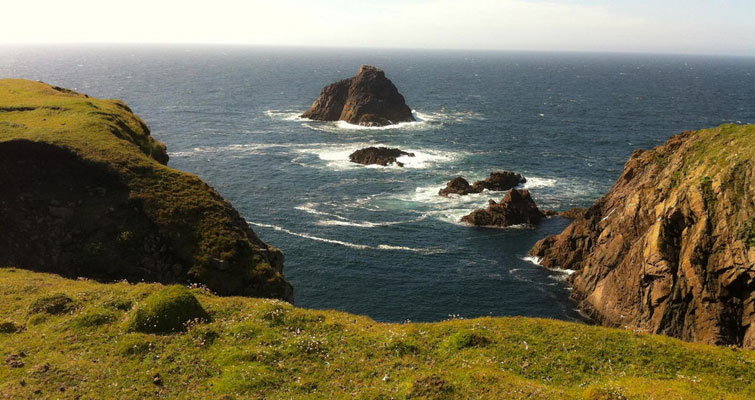 These cliffs date back about 600 million years ago and consists of shales, schists and gneisses. The stratification of the rocks is vertical or lies at all angles.
The high cliffs were formed by the drift of the American continent against Europe as well the similar cliffs at Slieve League in Donegal.
At the foot of Benwee a green headland can be seen. It is cut off from the mainland by a chasm which runs under Belderrig Bay and dates back about 60 million years.
The Stags of Broadhaven date back about 1.6 billion years.
There are also unspoiled beaches, sand dunes and machair. Inland blanket bog gives a sense of splendid isolation at the area. During the last glaciation the ice sheet did not cover this part of Mayo.
In the area many different habitats can be found ranging from huge blanket bog, sand dunes, unspoiled beaches, rugged cliffs and unpolluted waters.
Here there is a great variety of flora and fauna including among the plants: Purple Saxifrage, Heather, Honeysuckle, Ferns, Moss, Bog Cotton, Sundew, Sea Pink and Saltwort, while among the animals the list includes: Fox, Badger, Irish Hare, Hedgehog, Otter, Puffin, Razorbill, Storm Petrel, Cormorant, Gull and Gannet.
Dún Caocháin takes its name from a local legend associated with the one eyed giant, called Caocháin. According to that legend there was a Dun (a fort), situated to the north-west of Rinroe Peninsula, home to the giant during the time of the Ulster Cycle of tales.
It is thought the fort collapsed into the sea because of the coastal erosion. A sculpture dedicated to this local mythical figure can be seen along the Tír Sáile, the North Mayo Sculpture Trail (site J).
The area has retained many of its old traditions and culture and Irish language is still in full vigour as the vernacular.
A huge number of placenames comes from the Irish and gives clear clues on what the place was linked with; for instance the names suggest rural economy: Cosan na gCaorach (The Sheep's Path), Cnoc a' Daimh ( The Hill of the Ox), bog: Portaigh Shean Bhrianai (Sean Briain's Bog), crafts: Carriage an Ghreasai ( The Shoemaker's Rock), plants: Biolla na Slat (Mound of the Reeds), fairies: Garrai an tSidheain ( The Garden of the Fairy Fort) and human activities: Atha an Mhuilinn (Ford of the Mill), Scared na mBreidin ( The Spreading of the Tweed) and Clasaigh (Quarry).
In the area the most popular and spectacular walks are: Portacloy Loop, Cornboy Loop, Rossport Walk, Porturlin Loop and Belderrig to Porturlin Walk.