Mayo Millennium Spire October 1999 Saint Patrick's Church
Erected on the tower of Saint Patrick's Church, Ballyhaunis to celebrate the Millennium
Progress
The steel frame for the millennium spire was placed in position on the church tower on the morning of October 5th 1999. Work is now in progress and it is hoped that the slating with blue bangor slates will be completed in about two months. It will certainly be ready for unveiling on December 31st.
90th Anniversary
On October 10th this year we celebrated the 90th anniversary of the dedication and opening of the new church of St. Patrick.
The building of the church commenced in September 1903 and it took six years to build. On Rosary Sunday, 10th October 1909 it was blessed and dedicated by Archbishop Healy of Tuam. The original plan was to complete the church with a spire but due to lack of funds at the time this did not happen. However, when the community in Ballyhaunis began to look for a suitable millennium project to celebrate the millennium, they decided that erecting a spire on the church would be a very appropriate one.
It would be a christian symbol which would encompass what the millennium is all about It would be a memorial to all the people who contributed so generously at the beginning of the century towards the building of one of the finest churches in the West It would be a focal point for the town and hinterland. ballyhaunis church spire - mayo millennium spire
Sponsorship
The overall cost of the project is £250,000. People were invited to sponsor a slate costing £5 or $10 and the response has been wonderful. A certificate acknowledging sponsorship of slates is being given to each sponsor.
Time Capsule
Before the work is completed it is planned to place all the names of donors and sponsors in a time capsule and have it located high up inside the spire.
Mayo Millenium Spire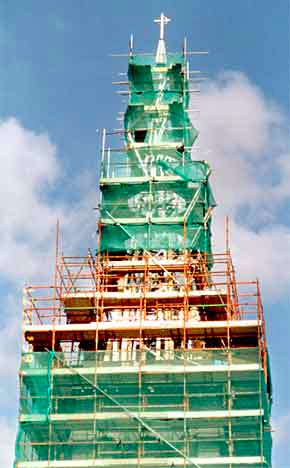 Other Things You Might Like