Lahardane - Ireland's 'Titanic Village' in Co. Mayo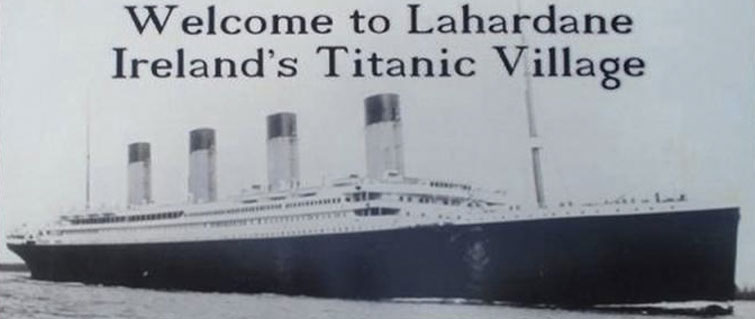 The word "Lahardane" from the Gaelic 'leath ardán' means "half the hill" or "the gentle slope". Situated on the Crossmolina/Pontoon road, in the Parish of Addergoole, with world-renowned Lough Conn to the east and Nephin mountain towering in splendid and rugged magnificence to the west.
Ireland's 'Titanic Village'
Historically, Lahardane lays claim to being 'Ireland's Titanic Village' because of the enormous loss of lives, of any parish in Ireland, on the ill-fated RMS Titanic's catastrophic maiden voyage. Within days of boarding the Titanic on Thursday 11th April 1912, at Queenstown (Cobh) in County Cork, eleven of the fourteen people from Addergoole parish had perished in the icy waters east of Newfoundland. Only three Addergoole parishioners survived the tragedy.
The Addergoole Titanic Society was established in November 2001 to commemorate the story of the 'Addergoole Fourteen', and a Mayo Titanic Cultural Week takes place from 8th - 15th April 2012. In advance of this, two specially commissioned stained glass windows have been installed in St Patrick's Church, Lahardane.
Attractions
Fishing is one of the main attractions for visitors to this friendly Mayo village. Lahardane is only a short distance from Lough Conn and the smaller Lough Cullen, both of which are part of the great natural fishing waters of Ireland and famed worldwide for their large stocks of salmon and brown trout fished each year by avid anglers from many parts of the globe.
The visiting angler who makes Lahardane his base can also choose to fish the great river Moy where it flows through Foxford only a few miles away, or he can hire a boat and fish for salmon and sea-trout on nearby Lake Beltra, near Glenisland. Nearby Lough Levally will furnish his needs if he is interested in fishing for pike.
Within Easy Reach
Crossmolina: 9km

Foxford: 17km

Ballina: 21km

Castlebar: 27km
Other Things You Might Like