Towns and Villages in County Mayo

Mayo is Ireland's third biggest county and, as a result, has a wide-ranging choice of medium and large towns as well as a host of small villages across the landscape of the county. Mayo is a place of character and charm enhanced by its history and heritage, with towns, villages and people to capture your heart. The visitor can choose to explore any of the smaller, less populated villages to experience peace and solitude and then blend that with a taste of some of the modern and lively towns bursting with things to do and see.
Whatever your choice of destination in Mayo you will be impressed with the magnificent range and high standard of accommodation, restaurants, coffee shops and pubs, as well as the top attractions and modern leisure facilities in so many of the welcoming towns and villages, where the locals can still find time to stop and greet you with a friendly 'Céad Míle Fáilte' synonymous with Ireland and it's culture.
There are many vibrant towns in County Mayo with a lot of events, festivals, restaurants, pubs and shops.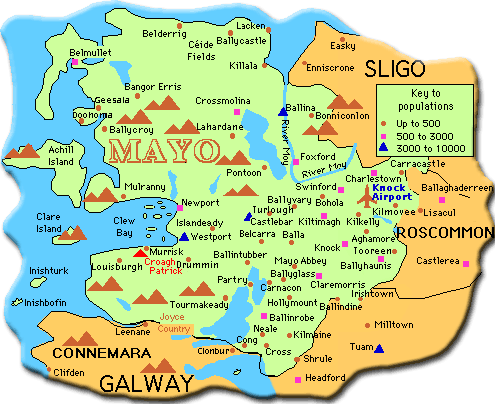 Other Things You Might Like