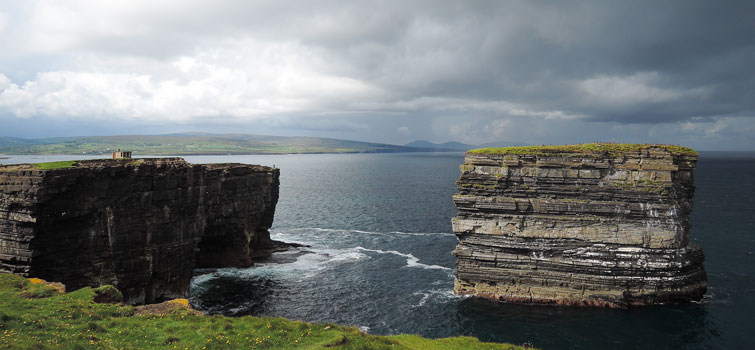 Driving along the Wild Atlantic Way on the Mayo's section we stopped at DownPatrick Head, one of two Signature Points in North Mayo, located 3 miles north of Ballycastle village.
We parked our car at the parking area and after a short and easy walk over a couple of fully green fields we reached one of the most breathtaking places I've ever seen. Dun Briste, a sea stack close to the edge of the cliffs stood in front of me and the Atlantic Ocean waves broke on the stunning cliffs.
The place is also rich in spirit; history and legend are mixed together: St Patrick, a Druid Chieftain, Irishmen and French soldiers…
I breathed freely, I felt alive and full of a new energy; I was aware of the salty tang of the ocean, everything was so heady!
The light was so fascinating, Dun Briste was in the clear sunshine and a dark cloudy sky was to his backdrop, far away on the ocean.
Suddenly the dark cloudy sky was above us and we got caught in a short violent thunderstorm!
There, on the cliffs, we experienced the full power of Nature but also the power of an atlantic storm!
Something unique and unforgettable!
Posted by Michael