Tír Sáile, The North Mayo Sculpture Trail
A land where the salt laden winds from the Atlantic governs all things.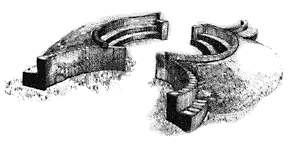 &nbsp
Site G
Sculptor:
"Court Hence" Ballycastle Cottages.
An open circular enclosure of stone incorporating seating in its inner circumference, with an earthen embankment falling behind, inspired by the Megalithic monuments.
Location:
the open space in front of Ballycastle Cottages just outside Ballycastle town on the Killala road.
The North Mayo Sculpture Trail begins in Ballina and follows the coastal route through Killala, Ballycastle, Belderrig, Belmullet and down to Blacksod.